Back to Events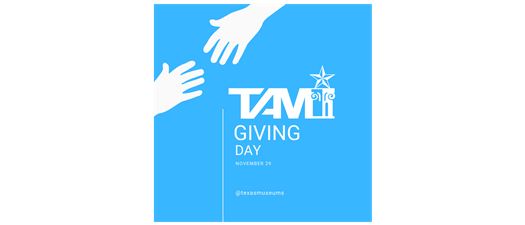 Giving Day 2022
Tuesday, November 15, 2022
at
12:00 AM (CST)
to Tuesday, November 29, 2022 at 11:59 PM (CST)
Event Details
TAM Giving Day 2022
Save the Date: November 29, 2022
This year, TAM is leaning into Giving Day and setting a $5,000 donation goal to help support TAM operations. The pandemic, instability, and rising operational costs have been challenging for all of us. Through all of this, the TAM community has continued to demonstrate the incredible perseverance of Texas museums, cultural organizations, academic programs, and museum-serving businesses. Your generosity will help provide much needed support for TAM operations and serve as a vote of confidence for our future and strategic direction.

Those able and willing to support TAM at the $50.00 level will be entered into a drawing for a free, full registration to the Annual Conference in San Antonio (worth $575.00). Those who donate more than $100 will also receive a TAM mug in the mail.


From now through November 29, 2022, you'll get to hear from TAM Council Members, learn about the many ways museums impact society, and have the opportunity to win a free conference registration.
Support TAM this year, and invest in the arts, culture, and historical preservation of Texas' tomorrow. Here are some ways you can support TAM this Giving Tuesday:
Click "Add to Cart" and edit donation amount in your cart.
Support the TAM 2023 Conference in San Antonio by becoming a sponsor or exhibitor at the event.


Facebook Instagram Twitter
Follow us on all our social media to hear from TAM Councilors, learn about museums and their impact on communities, and stay clued into our TAM 2023 raffle!


Share our TAM posts with your colleagues, family, and friends. Invite them to join you in supporting Texas Museums!
Hear more about TAM and Giving Day 2022 from TAM President, Margaret Koch.
---
Hear from TAM Councilors about Why They Give & Why They Support TAM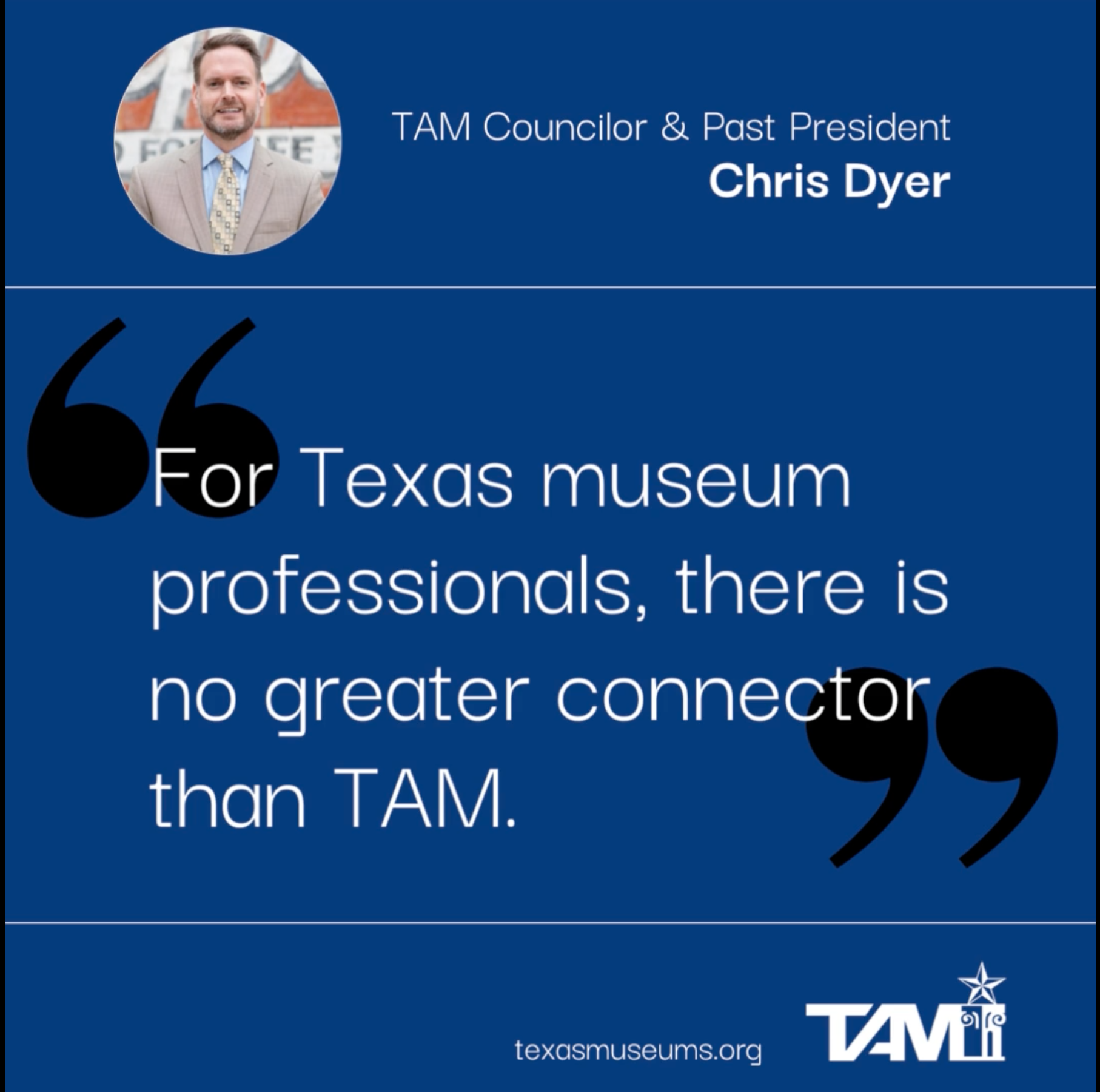 From TAM Officer & Past President Chris Dyer: "For Texas museum professionals, there is no greater connector than TAM. I choose to support TAM annually through membership and personal contributions because of the continued impact that the organization has on museum professionals at all stages of their career. Please join me with your support of TAM with a 2022 Giving Tuesday contribution."
---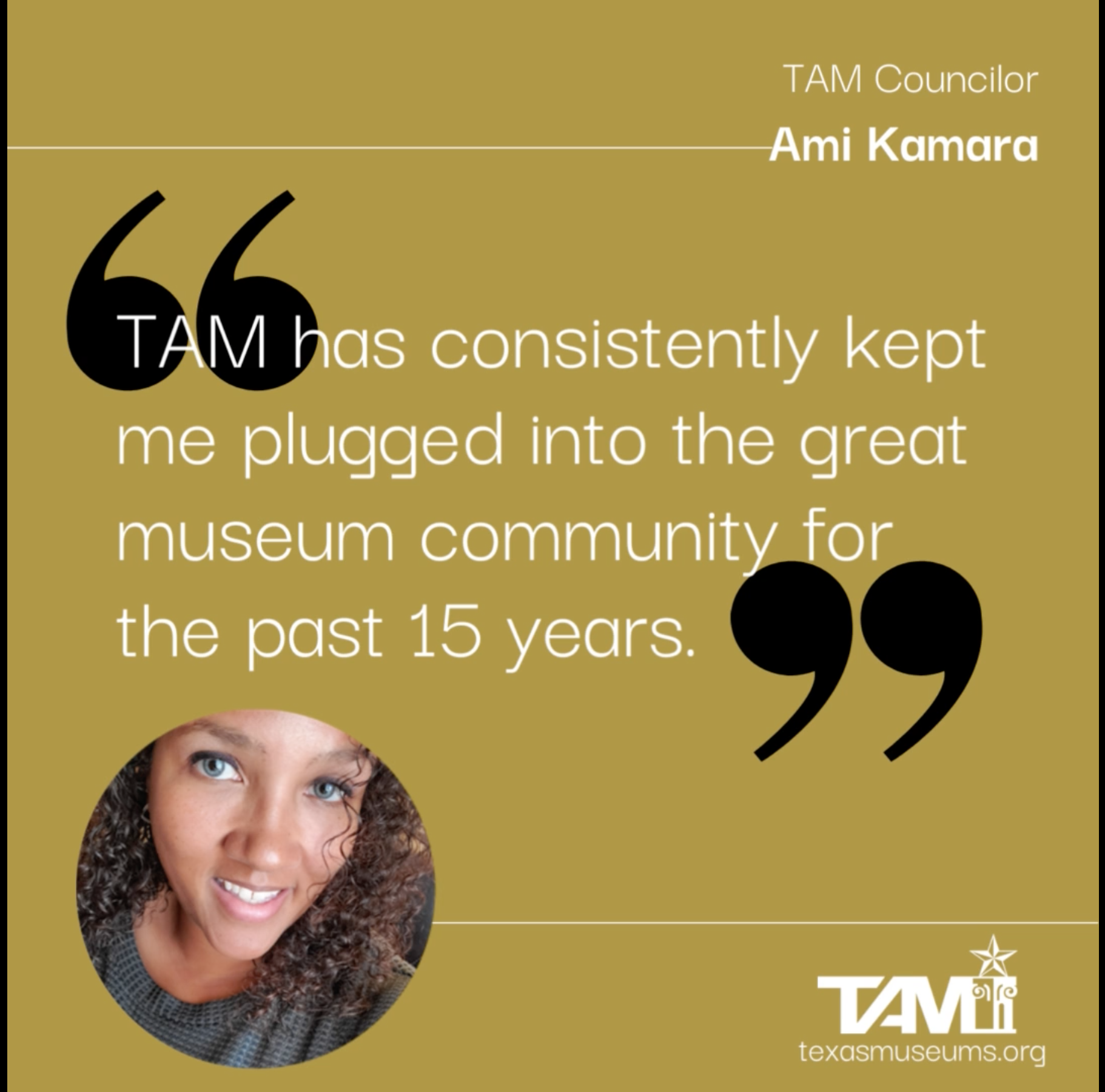 TAM Councilor Ami Kamara: "TAM has consistently kept me plugged into the great museum community for the past 15 years. I've met so many colleagues from all over the state that I've learned from, shared ideas and meals with and now count among my friends. TAM is invaluable!"


---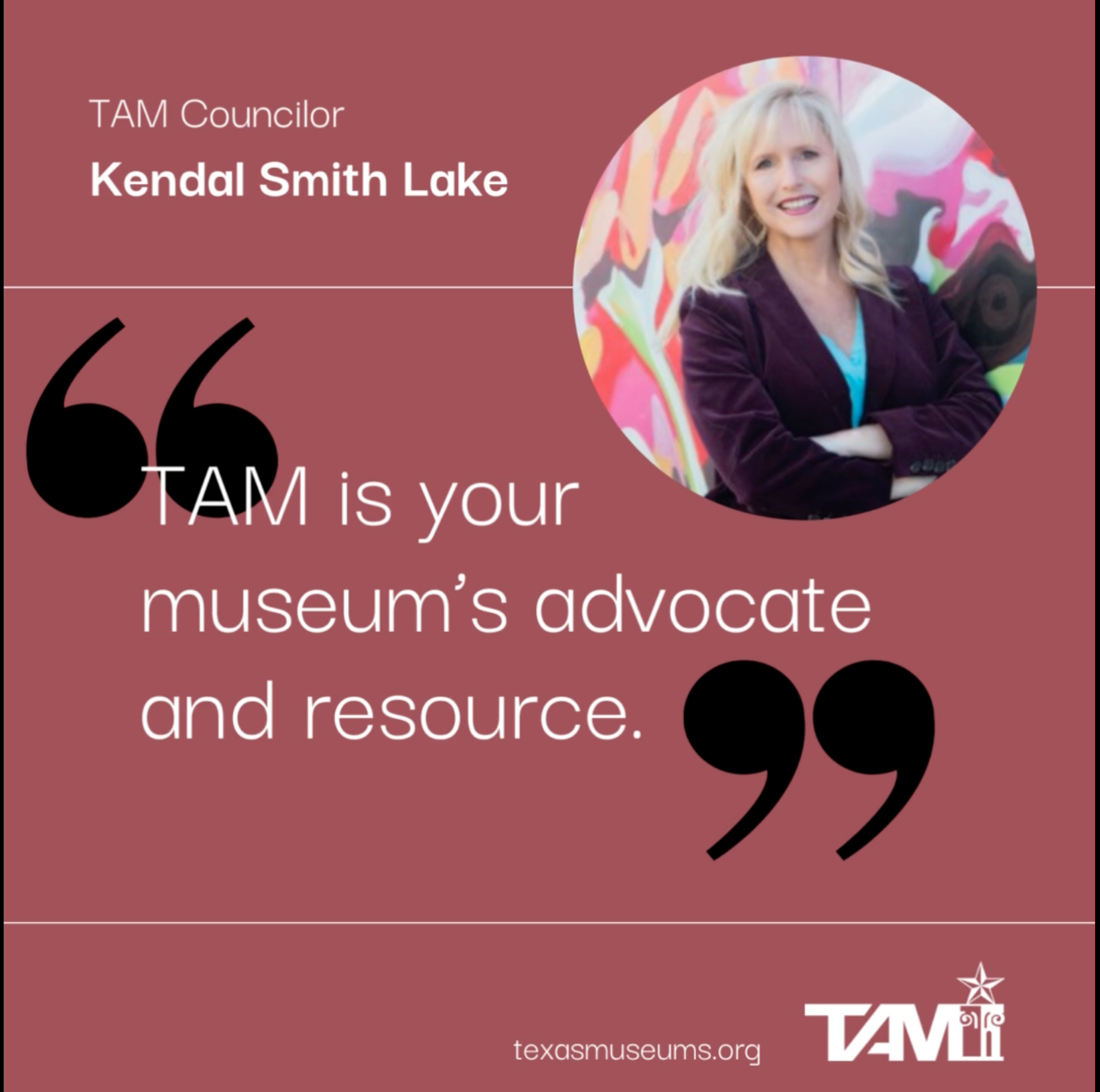 TAM Councilor Kendal Smith Lake: "TAM is your museum's advocate and resource. Past and upcoming programs focus on development, marketing and marketing research, collections management, diversity and inclusion, and new technologies to name just a few. Most important, I feel are the connections that can be made with colleagues in our field across the state. We learn best from each other when we share experiences!"

---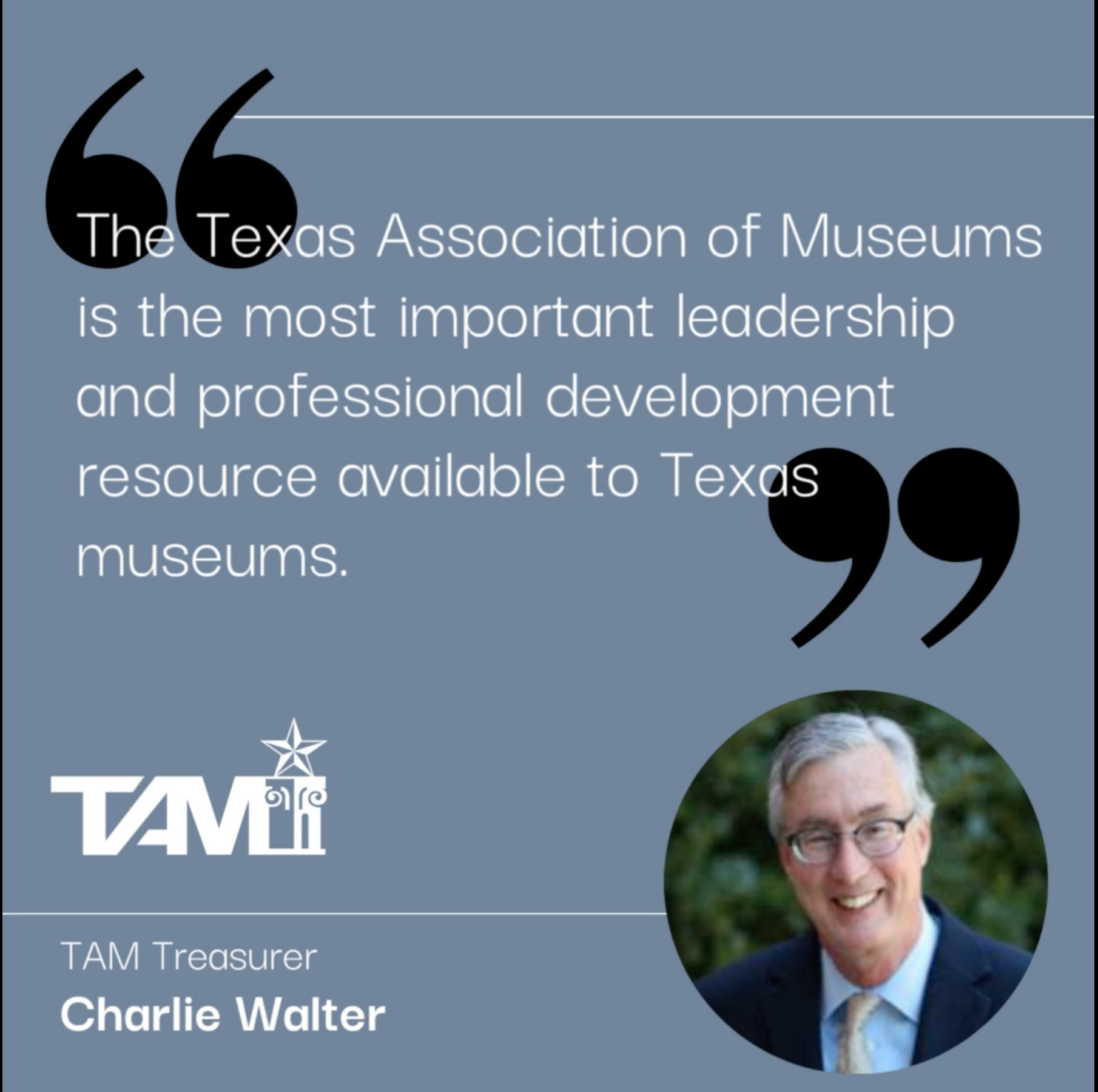 TAM Treasurer Charlie Walter: "The Texas Association of Museums is the most important leadership and professional development resource available to Texas Museums."


---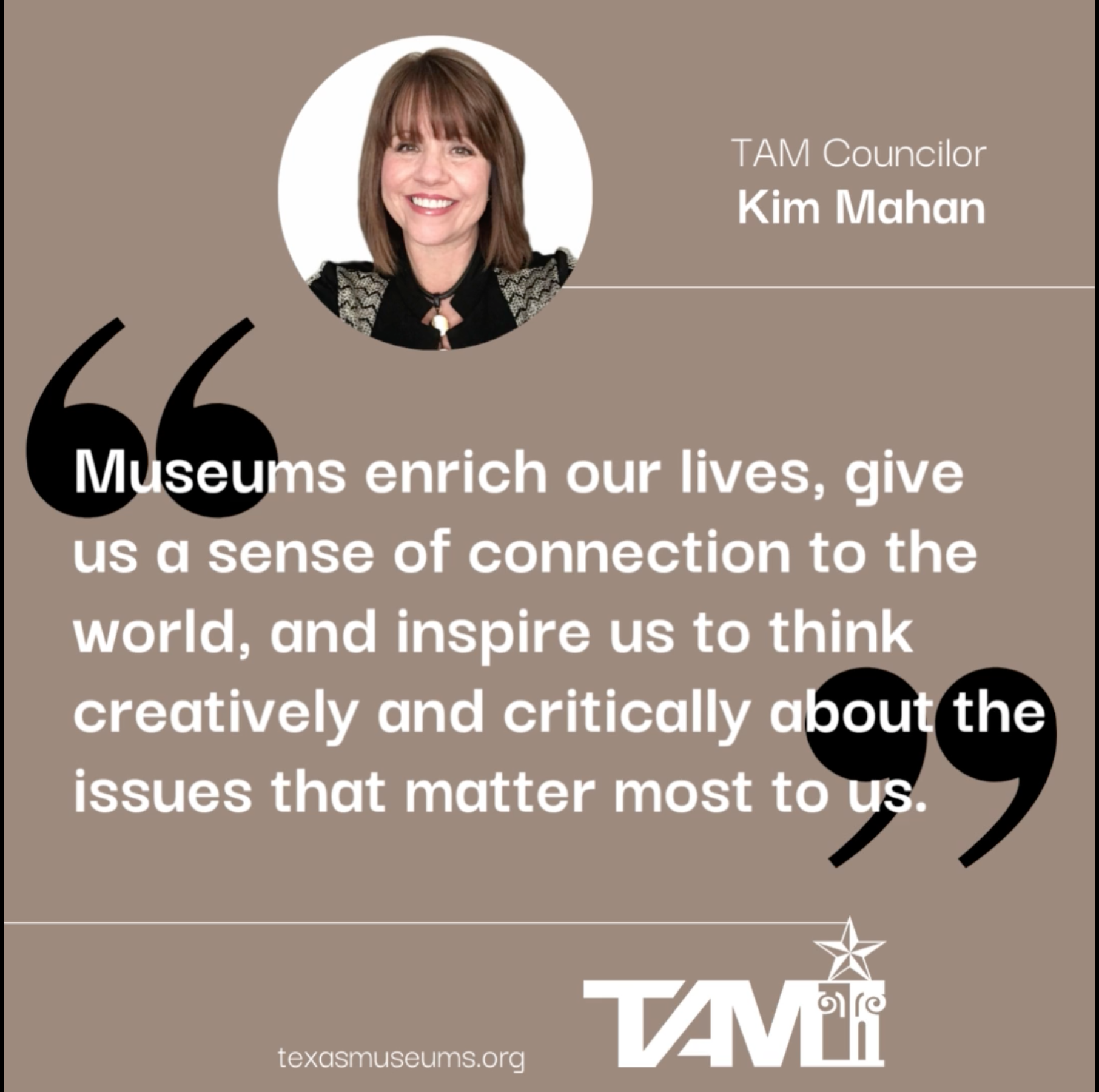 TAM Councilor Kim Mahan
: "Museums enrich our lives, give us a sense of connection to the world, and inspire us to think creatively and critically about the issues that matter most to us. TAM supports museums by providing professional development and networking opportunities to those working in the field. It is a great resource for all museums in Texas!"
---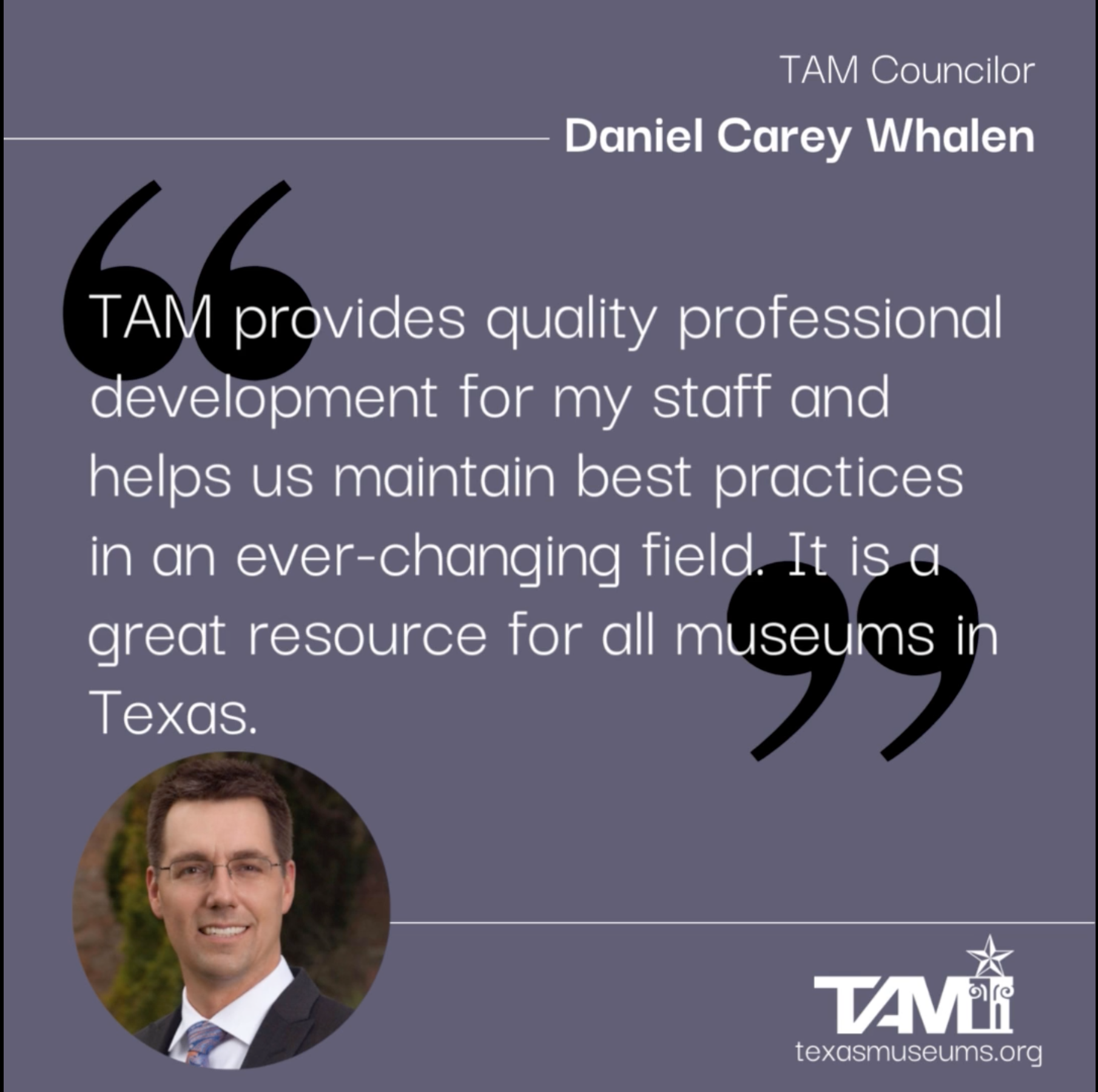 TAM Councilor Daniel Carey Whalen
: "TAM provides quality professional development for my staff and helps us m aintain best practices in an ever-changing field. It is a great resource for all museums in Texas."
---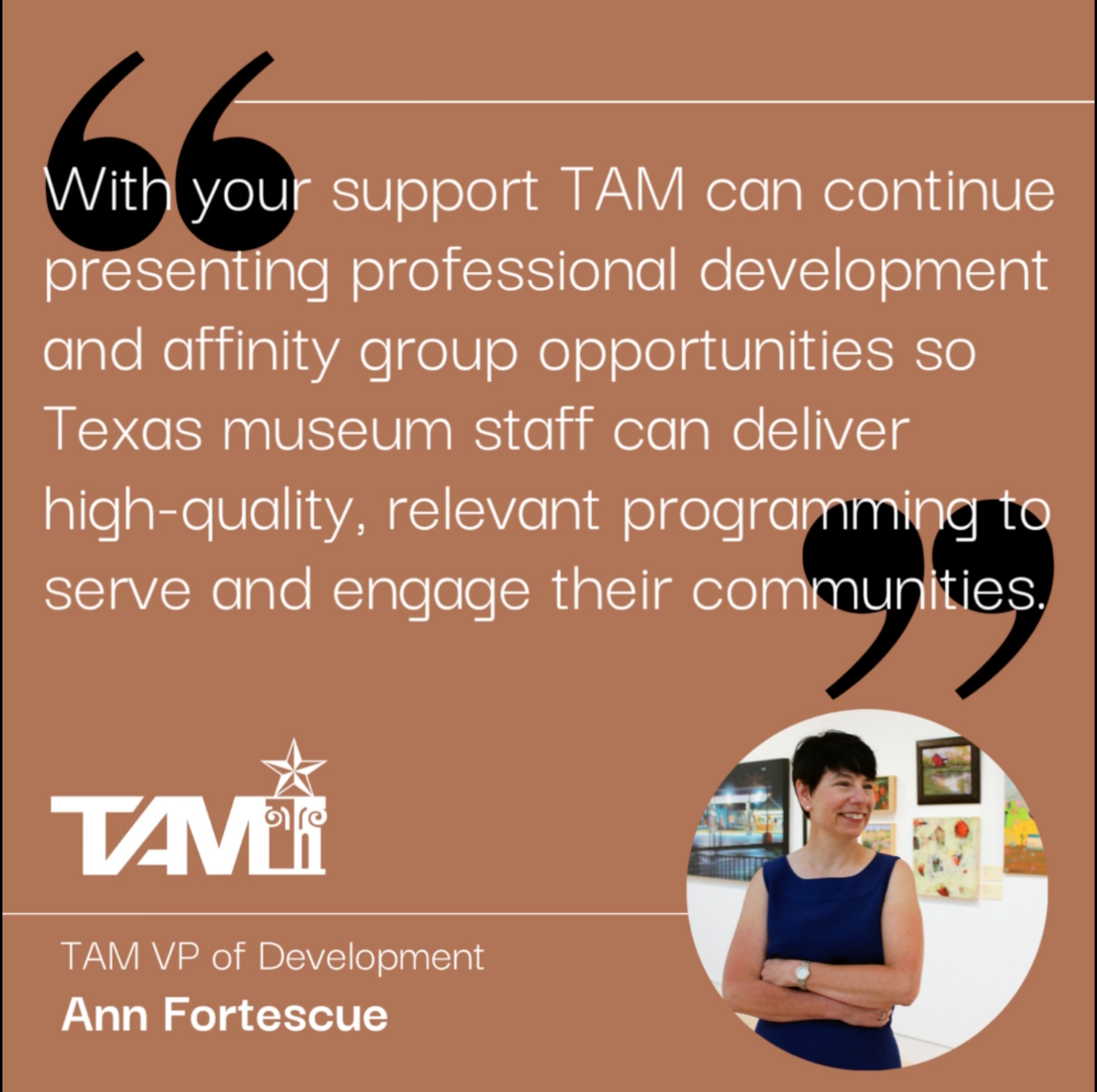 TAM VP for Development Ann Fortescue
: "I invite you to join me in strengthening Texas museums with a contribution to TAM on Giving Day. With your support TAM can continue presenting professional development and affinity group opportunities so Texas museum staff can deliver high-quality, relevant programming to serve and engage their communities."
---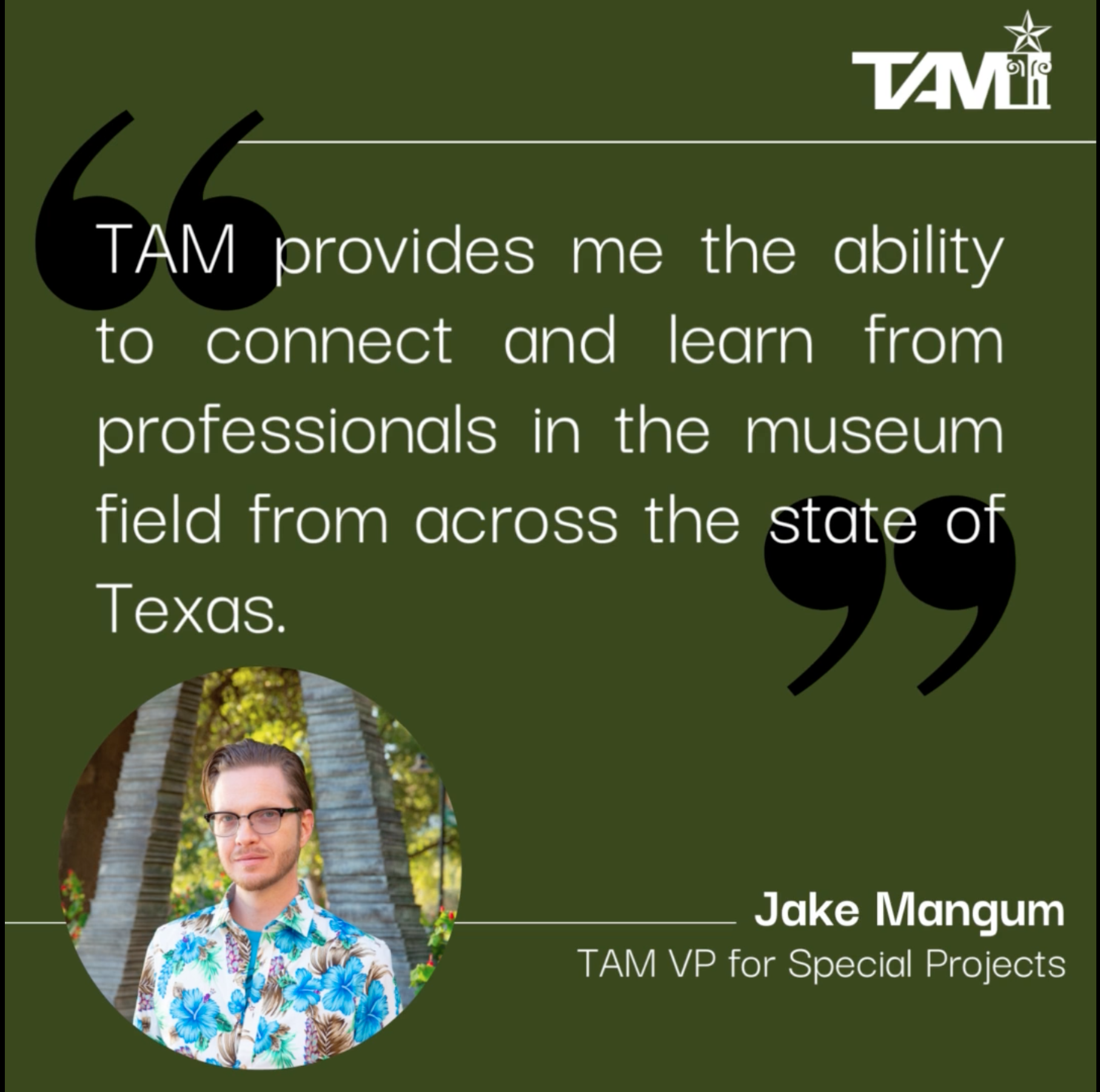 TAM VP for Special Projects Jake Mangum: "I am member of the Texas Association of Museums because it provides me the ability connect and learn from professionals in the museum field from across the state of Texas."
---
TAM Councilor Desmond Bertrand Pitts
: "Early on in my career in museums, I was embraced by the TAM family. Through the annual conferences, I had opportunities to shine and share my experiences, for me that was huge because I didn't think I had much to share as a newcomer with a short history in museums. TAM is a great place to grow professionally and meet great people in the field of museum leadership. As I grow my institution grows and that for me is what it should be all about."