Back to Events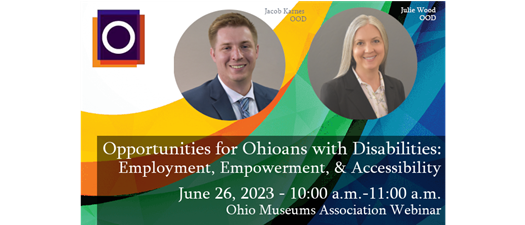 OMA Webinar: Employment, Empowerment, and Accessibility
Monday, June 26, 2023
10:00 AM - 11:00 AM (CDT)
Event Details
Registration Deadline: June 23, 2023

Opportunities for Ohioans with Disabilities (OOD) is the State of Ohio agency that empowers Ohioans with disabilities through employment, disability determinations, and independence.

Jacob Karnes and Julie Wood will provide an overview of OOD's services to employers which support businesses in their efforts to recruit and retain employees with disabilities, foster disability-inclusive workplace cultures, create accessible environments, and create workforce solutions for museums.

The presentation will also feature information about OOD's newly proposed initiative, Accessible Ohio. The presenters will highlight how Accessible Ohio further empowers Ohioans with disabilities and their families to participate in all aspects of public life by supporting Ohio's cities, counties, state agencies, attractions, and venues to be accessible and inclusive.


About our speakers:
Julie Zeigler Wood is the Worksite Accessibility Specialist with the Division of Employer and Innovation Services at Opportunities for Ohioans with Disabilities. Julie's area of focus is worksite accessibility and Title I of the ADA. She provides consultations for Ohio employer partners that support a shared goal to remove workplace barriers and increase access to work for people with disabilities. Prior to joining Opportunities for Ohioans with Disabilities, Julie practiced as an Occupational Therapist for 13-years, nine of which were spent operating a private practice. She provided a variety of work-related therapy services aimed at enabling people to obtain, return to, and remain at work.

Jacob Karnes is the Business Relations Specialist for the Northwest region for Opportunities for Ohioans with Disabilities. Jacob began his career with OOD in 2019 and has experience providing and coordinating job development, job coaching, work incentives planning, and longterm supports services. In addition, he has developed a curriculum used by OOD job seekers to train the skills needed to find employment. An enthusiastic presenter, Jacob facilitates disability etiquette and awareness training to a variety of groups across Northwest Ohio's 22 counties.

When: Monday, June 26, 2023, 10:00 a.m. – 11:00 a.m.
Where: Online – complete webinar login details will be sent to participants after registering
Cost: $10 – OMA Members; $15 Non-members
TAM Members: Use code TAMMEMBER at checkout to receive the OMA member rate.

Please contact Johnna McEntee at oma@ohiohistory.org or 614.361.5613 if you do not see the $10 member rate after using the code, or run into any issues when registering.

Register: Click here to register
Registration deadline: June 23, 2023