Jo Stewart Randel Outstanding Trustee Award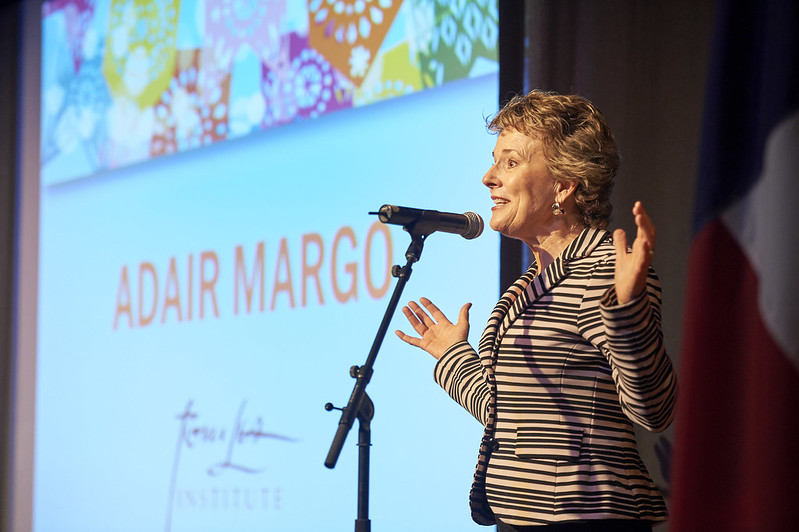 TAM's Jo Stewart Randel Outstanding Trustee Award recognizes excellence and distinguished contributions by a volunteer trustee to museums in Texas. Presented each year at the Annual Meeting of the Texas Association of Museums, this award spotlights one outstanding trustee whose visionary leadership has made a significant impact on the museum(s) he or she serves. The award is named in honor and memory of Jo Stewart Randel (1915-2002), an exemplary museum trustee from the Texas panhandle.
 Nomination Criteria
Nominees must be individuals. Group or multiple-person nominations will not be accepted.
Nominees may be current or retired trustees. There is no minimum or maximum term requirement.
Nominees must be nominated by a TAM institutional member.
Nominees must be nominated by a representative of the museum at which he or she serves (or served). Individuals may not self-nominate.
Nominees are eligible to win only once.
Nominees will be considered based on leadership, service to the Texas museum community, and contributions to the institution(s) that he or she serves (or served).


Submission Guidelines
The Jo Stewart Randel Outstanding Trustee Award is selected by the Annual Conference Local Host Committee along with the TAM VP for Programs. If you would like to nominate someone for this award, please contact admin@texasmuseums.org with the subject line "Jo Stewart Randel Outstanding Trustee Award Nomination" by February 1, 2024. Please include a narrative summary of the nominee's contribution not to exceed 250 words. Letters of support are welcome but not required.


Award
The Outstanding Trustee Award is presented each year at the TAM Annual Meeting. TAM 2024 will be held in Lubbock, April 14-17. Recipients will be notified in advance and invited to the meeting.


About Jo Stewart Randel
Jo Stewart Randel's tireless work toward improving the quality of life of Carson County's residents and those of the greater Panhandle area spanned more than four decades. She was one of the most recognized and celebrated philanthropists and community volunteers in the Texas Panhandle.
Ms. Randel was primarily responsible for the founding and ongoing development of the Carson County Square House Museum in Panhandle, Texas. She served as the director of the museum in a volunteer capacity for 20 years.
Generations of schoolchildren and adults were beneficiaries of Jo Randel's leadership and vision through the ongoing educational activities of the museum, and for more than 30 years she was instrumental in bringing culture and art in all their manifestations to the entire Texas Panhandle.
Ms. Randel served on a variety of boards and commissions throughout the state. She was founder and first board chairman of the Texas Association of Museums and executive committee member of the Texas Historical Foundation.
She was the recipient of several awards and honors for her faithfulness in creating and maintaining programs and organizations focused on all aspects of the arts. In 1999 she received the National Award of Merit for American State and Local History, and in 1994 the Amarillo Globe-News named her one of the five most influential women in the Panhandle.
Jo Randel died May 5, 2002 at age 86. Perhaps her greatest legacy is the people she helped along the way to make careers in the field of arts – people who will ensure continued excellence for arts of every kind.
Source: https://twu.edu/twhf/honorees/jo-stewart-randel/
Previous Award Winners
2023 - Secretary Hope Andrade, GO RIO San Antonio
2022 - Hector Sabido - Historic Waco Foundation
2021 - Sue M. Lee - Brazos Valley Museum of Natural History
2020 - Benjamin Warren - Holocaust Museum Houston
2019 - Adair Margo - Tom Lea Institute