Back to Products & Services
Telling Your Story For Value And Impact - Add On Workshop
Miscellaneous Products | Attendees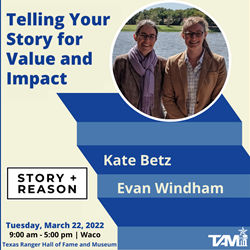 We believe that museums are valuable, but do we take that concept too much for granted? How can one museum, especially a small one, tell their unique story to prove their individual value to funders, supporters, and target audiences?
In this day-long, intensive workshop, participants will learn basic principles of interpretation and audience development and how applying these principles systematically is critical to proving our value and impact as institutions.
By the end of the day, through a combination of lecture, group discussion, role playing, and individual work, participants will have crafted a draft of their institutional story, discussed how their story can help to set goals and make decisions, and selected a project to apply their story and strategy to in the future.
This event includes a box lunch and all activities will take place at the Texas Rangers Hall of Fame and Museum in Waco.
---