Back to Events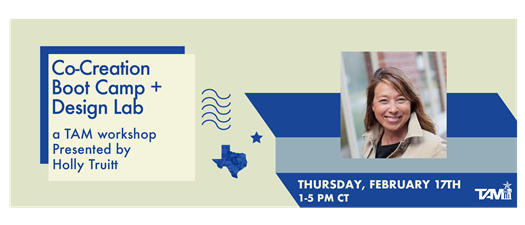 Co-creation Boot Camp and Design Lab - Houston
Join Holly Truitt as we unpack how to strategically engage community.
Thursday, February 17, 2022
* Registration open until 2/16/22 at 11:59 PM ()
Event Details
About the Workshop
Are you inspired to co-create with your community? Do you want your community in the driver's seat (or at least in the car) for the design of a new or current program, change initiative, exhibit, or building? Are you hungry to create a lasting impact that betters your corner of the world? Are you saying yes but asking HOW?
This Bootcamp + Design Lab will build your and your museum's muscles to co-create for impact and change with your community in ways that are deep, authentic, and connective.
Designed to be a unique combination of receiving and doing--we will explore the how, why, and what of co-creation, but also give you applicable new mindsets, practices, design prompts and ways of moving.
During a rapid design sprint and lab, you will be guided to envision and integrate co-creation into a current initiative, desired partnership or project (small or large). We promise it will be playful, impactful and the sparks will fly.
There will be a follow-up workshop at TAM 2022 on Thursday, March 24 in Waco. More information for the Waco workshop can be found on the TAM 2022 Event page.
About the Presenter
This creative Bootcamp + Design Lab will be led by Holly Truit, owner of Holly Truitt Consulting - a firm that helps clients to co-create with their communities and end-users. Clients range from Fortune 500 companies to leading museums, to governments, to economic catalyzers -- all emerge from this work as better listeners, designers, and co-creators. And, most importantly, new insights, innovations, leverage opportunities to further their impact and work with, for, and by their community. A lecturer at Stanford d.school, author, and researcher, she has led more than $13.5 million in federal grant funds in community co-creation and designing for change.
Thanks to the Museum of Fine Arts, Houston for underwriting the workshop venue.
For More Information: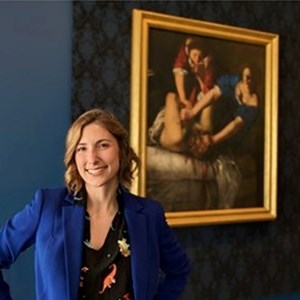 Brittany Petrilli
Executive Director
Texas Association of Museums
(817)332-1177
Payment Policy
Full payment is due at the time of registration if paying by credit card. Payment by check is due within 21 days of registration. Checks should be mailed to: Texas Association of Museums 1108 Lavaca Street, Suite 110 - #626 Austin, TX 78701
Code of Conduct
TAM believes in the following philosophies and requests that each Speaker considers and abide by TAM's Event Code of Conduct statements below to the best of their ability.
TAM is dedicated to the principles of inclusion.

TAM takes a firm stand on ethics and operates in accordance with the highest ethical standard of professional and personal conduct.

TAM events are dedicated to providing a harassment-free experience for everyone, regardless of gender, gender identity and expression, age, sexual orientation, disability, physical appearance, body

size, race, ethnicity, religious preferences, or technology choices.

TAM does not tolerate harassment of conference participants in any form.

Sexual language and imagery are not appropriate for any event venue, including talks, workshops, parties, Twitter, and other online media.

We also expect all participants to conduct themselves with integrity, respect, honesty, and credibility; approach all events and interactions in accordance with the highest ethical standards of professionalism and personal conduct; and avoid all activities that will cause damage to or discredit your organization, TAM, or yourself.
Event participants violating these rules may be warned, sanctioned, or expelled from the event without a refund at the discretion of the event organizers.
Cancellation Policy
Payment can be made online or by mail; telephone registrations will not be accepted. Refunds (less 20% fee) will be granted for cancellations received in writing two weeks prior to the program. No refunds after the date of the program. Refunds will be processed after the workshop.