Back to Events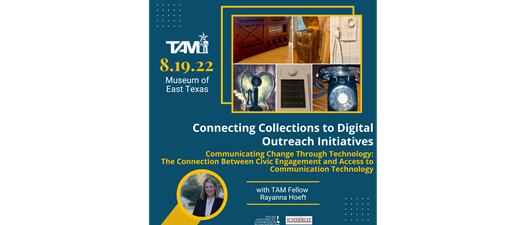 Forest Trail Workshop: Connect Collections to Digital Outreach Initiatives
Connecting Collections to Digital Outreach Initiatives
Friday, August 19, 2022
Hybrid Event. Attend In-Person at the Museum of East Texas or attend virtually through provided Zoom link.
Event Details
Forest Trail Region Digital Education Workshop
Connecting Collections to Digital Outreach Initiatives
August 19, 2022
2:00 - 4:00 pm
Museum of East Texas
with TAM Fellow Rayanna Hoeft


---

Head to the Forest Trail Region on August 19, 2022 at the Museum of East Texas to take part in our regional workshop for our Statewide Informal Digital Learning Network. Join Rayanna Hoeft of the McFaddin Ward House, to discuss how she uses local history in digital programming.


Communicating Change Through Technology: The Connection Between Civic Engagement and Access to Communication Technology
Various forms of digital outreach connect museums to a broader audience, thus enhancing the reach of the museum's mission. The recent pandemic highlighted the importance of creating digital initiatives as a way for museums to remotely connect with their audiences, especially educators seeking innovative content for their asynchronous learners. Educators are now comfortable with accessing content digitally and often welcome the differentiated teaching method offered by collaborating with a museum educator. One form of digital outreach utilized by classroom educators is the virtual field trip experience.

Virtual field trip experiences enhance student learning in a multitude of ways.
Not only do these experiences introduce students to museums they may not engage with on a regular basis, but they also bring students into direct contact with digitized primary sources and interactive experiences. Through those types of experiences students learn historical thinking skills and reasoning processes.


This session will explore the necessary steps to virtual field trip development by:
Considering differentiated learning needs

Connecting collections and other primary sources to desired learning outcomes

Incorporating technology tools to transition an already existing in person field trip experience to a virtual experience.
---
Workshop Pricing:
In-Person (Member) - $50
Virtual (Member) - $25

--
In-Person (Non-Member) - $75

Virtual (Non-Member) - $50
For More Information: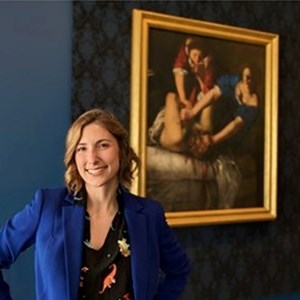 Brittany Petrilli
Executive Director
Texas Association of Museums
(817)332-1177
Workshop: 2:00 pm - 4:00 pm
In-person attendees will receive free admission and an opportunity for a self-guided tour of the Museum of East Texas.


At the Museum of East Texas now: you'll have the chance to see Houston artist Sarah Fisher's solo exhibition You Won't See It Coming.