Back to Events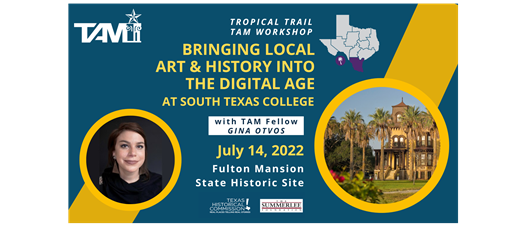 Tropical Trail Digital Education Workshop
Thursday, July 14, 2022
Hybrid Event. Attend In-Person at the Fulton Mansion State Historic Site (317 Fulton Beach Rd, Rockport, TX 78382) or attend virtually through provided Zoom link.
Event Details
Bringing Local Art & History into the Digital Age at South Texas College
July 14, 2022
2:00 - 4:00 pm
Tropical Trail Region Statewide Digitial Learning Workshop
Fulton Mansion State Historic Site
with TAM Fellow Gina Otvos


---

Head to the Tropical Trail Region on July 14, 2022 at the Fulton Mansion State Historic Site to take part in our second regional workshop for our Statewide Informal Digital Learning Network. Join Gina Otvos, South Texas College's Art Gallery Coordinator, to discuss how she combines local history and visual art in an invaluable program about social responsibility and civic duties.


This workshop will explore different ways of teaching students about the history and art of civic participation through virtual programming. We will highlight specific projects at South Texas College that are utilizing digital formats to bring the art and history of local civic engagement to life. This will include information on developing virtual workshop experiences, using digital tools to create platforms for engagement, and exploring how online information literacy can help build a more complete, student-driven history and understanding of museum objects and collections in the virtual age.
---
Workshop Pricing:
In-Person (Member) - $50
Virtual (Member) - $25

--
In-Person (Non-Member) - $75

Virtual (Non-Member) - $50
For More Information: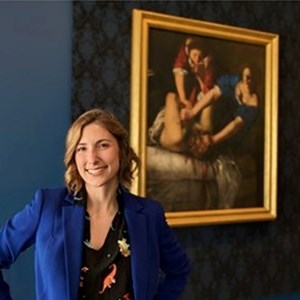 Brittany Petrilli
Executive Director
Texas Association of Museums
(817)332-1177