Back to Events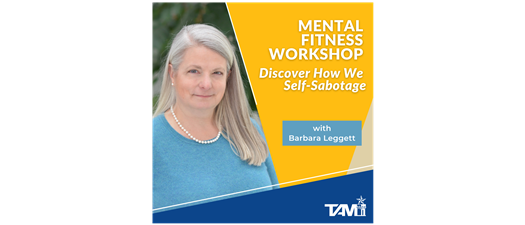 How to Thrive in Challenging Times Workshop
Mental Fitness Workshop with Barbara Leggett—Discover How We Self-Sabotage
Friday, November 4, 2022
Event Details
How To Thrive In Challenging Times
Mental Fitness Workshop—Discover How We Self-Sabotage
Studies have shown that only 20% of teams and individuals achieve their full potential. This 2-hour program introduces you concepts about how each of us self-sabotages and how we can break down those "Saboteurs" to achieve less stress and greater success.
Mental Fitness—a concept developed as part of Positive Intelligence ©—is a person's capacity to respond to life's challenges with a positive rather than negative mindset. Studies have shown that Mental Fitness has a positive impact on: Peak performance, Peace of mind / wellness and Healthy relationships.
This two-hour workshop will highlight the importance of Mental Fitness and help participants understand how we all undermine our long-term goals. Prior to the program, the participants take a Saboteur Assessment.
After learning more about Mental Fitness, the group will break into groups based on the nine types of Saboteurs and go through a guided exploration of how each specific Saboteur lies to us and undermines our success. The whole group then dives more deeply into the work done in small groups.
The program wraps up with some simple exercises (known as PQ Reps) that we can do to calm our mind. 
---
Workshop Pricing
Member Registration: $15
Non-Member Registration: $20 
Group Registration* for 3-5: $35
Group Registration* for 6-10: $65
*Groups are provided bulk discounts so that TAM members of the same association/team can attend the workshop together.