Mitchell A. Wilder publication Design Awards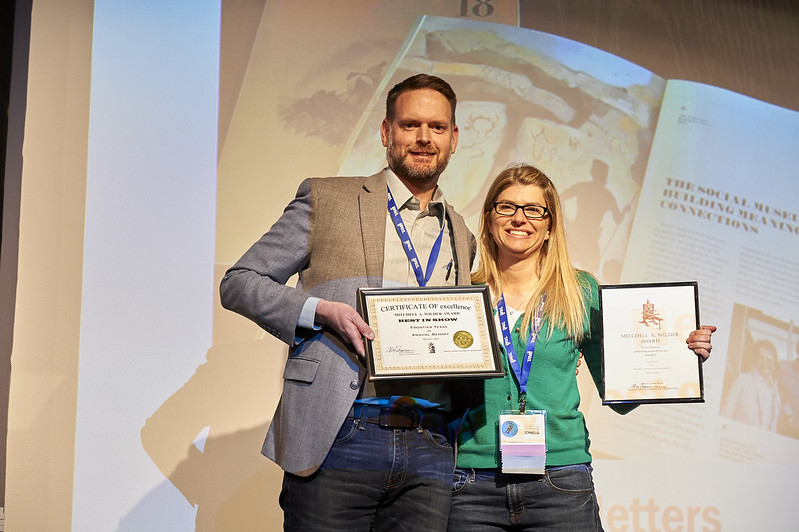 All museums, large and small, project a graphic identity in the communications pieces they produce for their publics. Ranging from informal monthly e-newsletters to scholarly exhibit catalogs, from printed posters to digital invitations, these communications reflect the museum's image.
TAM promotes the highest standards of graphic design and media production through the annual Mitchell A.Wilder Publication Design Award Competition. The award is named in honor of one of the early advocates of excellence in museum publications, Mitchell A. Wilder (1913-1979), founding director of the Amon Carter Museum in Fort Worth. Beginning with primarily late-nineteenth-century Western art, he helped build the collection of paintings and sculptures to include a wide cross-section of American masterpieces. Wilder was largely responsible for establishing the Museum's active publications program, active exhibition calendar, and instituting the photography collection--one of the country's largest. Throughout his career, Wilder strove for excellence and quality--, especially in museum publications.
To prepare for 2022, you can see the REGISTRATION FORM

Fill out and attach a separate ENTRY FORM to each entry. Mail physical entries with printed and attached Entry Forms to:

Texas Association of Museums
ATTN: Wilder Awards
815A Brazos, St., #537
Austin, TX 78701
---
Categories
Invitations and Development Campaign Materials
Newsletters, Brochures, and Announcements
Books and Catalogues
Marketing Materials, Supplementary Materials, and Posters
Eligibility
Submissions produced between January 2021 - December 2021.
Must be a TAM institutional member museum to submit. All entries must be produced or commissioned by the museum and must relate directly to its program. Any entry deemed not to meet these criteria will be disqualified and the entry fee will be forfeited.
Policies
There is a limit of 10 (ten) entries submitted. There can be no more than 3 (three) entries in the same category. An entry can ONLY be submitted to 1 (one) category.
Fees
The entry fee for the 2022 Wilder Awards is $75 per submission.
Submissions: Please submit payment and complete one entry at a time on this FORM. Make sure to mail physical submissions with Entry Form to Texas Association of Museums 815A Brazos St., #537 Austin, TX 78741 with the entry form. You can include payment in the mail or pay online here.
Deadline for Entries
The deadline for submissions has closed. | Incomplete forms will disqualify an entry. All entries become the property of TAM. Wilder Award Winning entries will be announced at the TAM Annual Business Meeting during TAM 2022 from March 22-25.
2021 Winners