Call for Proposals | TAM 2024 Lubbock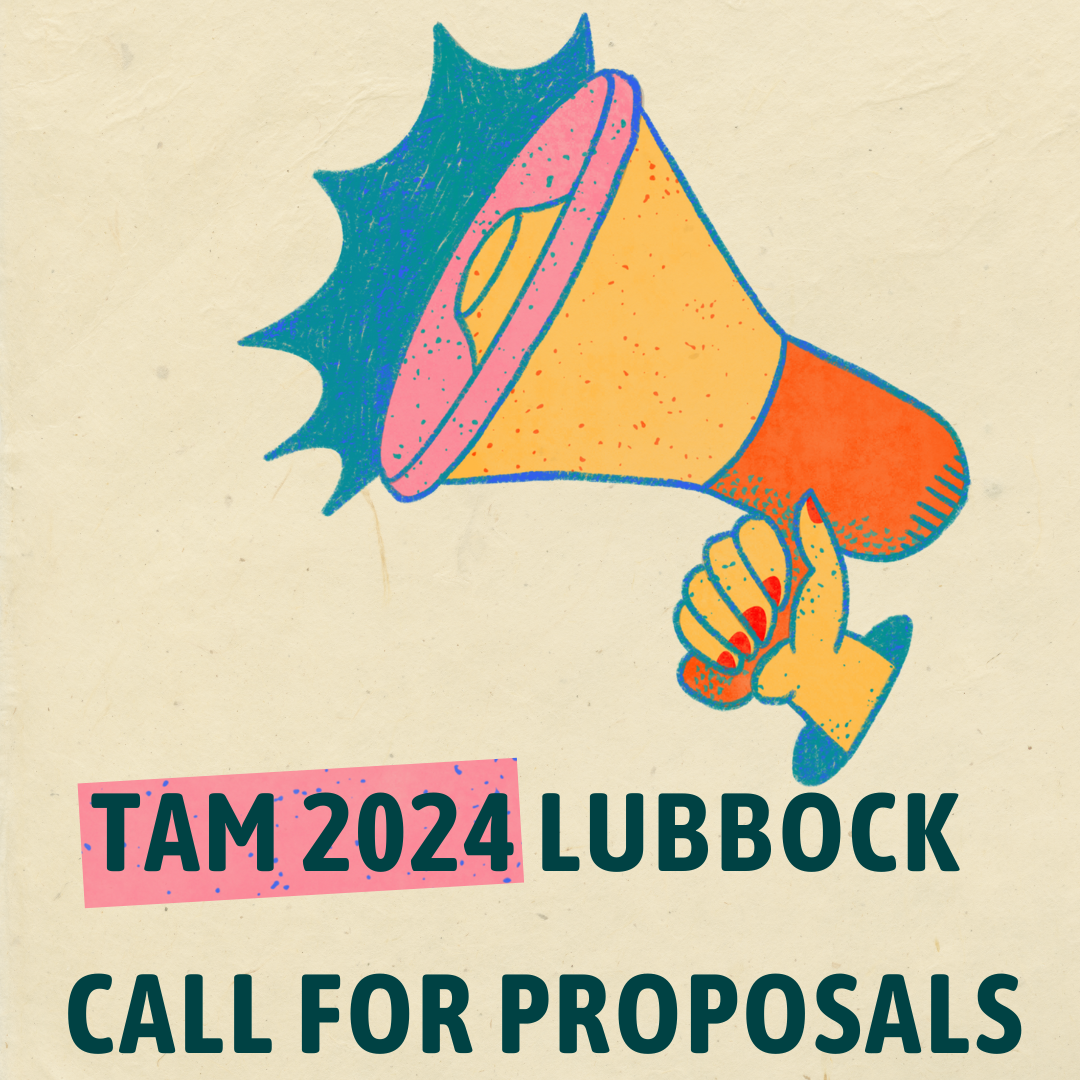 Submit your idea for a session at the TAM 2024 Annual Conference in Lubbock, April 14-17, 2024.
Hosting a session at a TAM conference is a fantastic opportunity to showcase your research, network with fellow scholars, and contribute to the advancement of our field. Whether you're a seasoned presenter, a first-time proposer, or a conference attendee with an idea they want to see presented, we welcome and value your contributions.


The TAM Program Committee has worked to streamline the session proposal process in efforts to make submitting your idea more accessible. At this point, the Program Committee asks only for preliminary session ideas. If you have an idea for a topic or session you'd like to see at the conference, but don't wish to take on a presenting role at the session, we encourage you to submit that idea nonetheless. The Program Committee will work to assemble the session if it's a good fit for the conference.


So, no matter how fleshed out your topic is, if you have an idea that you think will spark discussion and learning, don't hesitate to submit your proposal. The TAM community is eager to hear from you!


Submit your proposal by July 10, 2023 to be considered for inclusion in next year's conference program. We can't wait to see what you come up with!
---
WHAT IS THE PROGRAM COMMITTEE LOOKING FOR?
Each year, program committee receives more proposals than it can accept. A limited number of spaces are available, and proposals will be evaluated for learner outcomes, speaker expertise, and attendee value.
Program committee is looking for proposals that include the following:
· Relevant topics that meet professional development needs of attendees.
· Practical and relevant examples and how to apply lessons learned in sessions.
· Include audience participation and discussion.
· Encourage different perspectives on current events, issues, and topics.
· Relevant to a diverse range of disciplines, cultural perspectives, geographic locations and/or museum size.
Proposals may NOT be accepted based on the following criteria:
· Narrow – Topic is too narrowly focused to have broad appeal.
· Underdeveloped – Topic did not offer new insights or innovation in the area.
· Unclear – Proposal description lacks clarity and/or specificity.
· Lacking Diversity – Proposal content lacks applicability to a diverse range of disciplines, cultural perspectives, geographic locations and/or museum size.
Features of a Good Session
· Audience Participation - Audience participation is highly valued.
·Handouts - Participants like handouts, printed copies of power points, and other resource materials.
· Fresh perspectives - Search out new members of the Texas museum community to participate on panels.
· Different perspectives - Include a broad range of perspectives. I.e., instead of including three collection managers on a panel, include a scholar, a collection manager, and an educator. Participants with different points of view that represent a variety of museum sizes and disciplines are important.
· Controversy/Current issues - If the session topic embraces a legitimate controversy, discuss it. Focused controversy enlivens the process.
FREQUENTLY ASKED QUESTIONS
· How do I submit my proposal? Proposals are submitted through the TAM website portal. Session proposals are due on July 10, 2023.


· Do I have to register for the conference if my proposal is accepted? Yes, accepted speakers receive discounted registration for the conference. If the proposal is accepted, presenters will receive complimentary registration for the day they are scheduled to present. Additionally, presenters may select an option to receive $100 off the discounted rate to attend the full conference.


· Can I submit more than one proposal? Yes, you can submit multiple proposals. If possible, please fill out the proposal as much as possible. Check with your panelists to ensure they are available to participate in your proposed session.


· When do I need to complete my submission? Session proposals are due July 10, 2023.


· When will I find out if my proposal has been accepted? All submitters and speakers will be notified via email by October 2023.


· I can't attend in person, can I present virtually? We are considering virtual presentations on a case-by-case basis but cannot guarantee this. Please plan to present in person.


· What will be in my session room? Session rooms will come equipped with a projector, PC laptop, wireless slide advancer with laser pointer, and podium with microphone. Please indicate any additional needs for your presentation, including access to WiFi. Special A/V requests are not guaranteed, but an effort will be made dependent on availability and cost.


· How will my proposal be evaluated? During the first round of evaluation, your proposal will go through a blind peer- reviewed submission and review process. The review teams will evaluate each proposal and make selection recommendations through consensus.
o Evaluations are based on:
- Articulated, defined, and developed content.
- Clear, relevant learning objectives that are audience appropriate.
- Diverse perspectives – a range of disciplines (history, art, science, etc.), and diverse contexts (multicultural, international, museum size, etc.).
- Engaging content and/or experiences – sessions that encourage audience engagement and meaningful experiences are highly valued.
During the second round of evaluation, proposals that receive the highest scores will be further evaluated by Program Committee for inclusion in the Annual Meeting program.
· How should I deliver my presentation? Submitters will be asked to select from one of the following session formats:
o Workshop - Three-hour deep dive into a topic. Workshops teach special skills in a small group setting and may be held at the conference venue or suitable off-site location. Successful workshops are led by experts and focus on practical topics that are participatory or interactive. Based on the content of the workshop, limits for minimum or maximum enrollment may be put in place. Proposals should be specific about the skills the workshop will teach, as well as methods and techniques instructors will use. Workshops may include more than two presenters. Presenters are responsible for handouts.
o Lecture - Sixty-minute presentation with one or more presenters. Q&A to follow.
o Panel - The most common format, panels feature a chair and 1-3 speakers. Panels are 60 minute presentations with a moderator facilitating a discussion with 1-3 panelists. Q&A to follow. Moderators do not serve as panelists.
o Debate - This format involves lively speakers with well-developed ideas who can present opposing views and then open the debate to everyone. Requires a skilled moderator.
o Burst - Twenty-five minute fast-paced presentation that breaks down information into easily digestible and engaging content. Q&A to follow.
o Case Study - Thirty-minute presentation focusing on a real or hypothetical situation or problem. Purpose of presentation is inviting participants to discuss potential solutions and outcomes. Two case studies will be combined into an unmoderated sixty-minute session.
o Guest speaker - Spotlights a current topic with a dynamic speaker. Q&A to follow.
o Roundtable Discussion - Roundtables give participants the ability to learn a variety of topics from a range of panelists. These sessions may include 3-5 panelists, who occupy a table and present content, and are led by a session moderator who instructs participants when to switch tables. Participants move from table to table every ten or fifteen minutes, based on the number of panelists.


· Can for-profit service providers, vendors, exhibitors, or sponsors proposal a session or workshop? Yes! TAM encourages session proposals from exhibitors, sponsors, company representatives and private consultants. Please ensure that your session discusses a topic objectively. It is OK to present your work in the session, but it must be done in a broad context and not to specifically endorse your organization. Please feel free to contact TAM's VP for Programs with questions or concerns or to help develop your proposal further. Should you need help developing a panel outside of yourself and your client, please indicate this on your session form and the Program Committee will help suggest additional panelists that are knowledgeable about your topic.
DEVELOPING YOUR PROPOSAL
Step 1: Go to: https://docs.google.com/forms/d/e/1FAIpQLSe-I6qsovSieF6ZrM6iZ1pDSP4lXq0OmiJISI46Yd9WxLiVzg/viewform?usp=sf_link
Step 2: Enter Your Contact information
Step 3: Provide as much information as you can, including at least three specific learning objectives for session participants. Well-developed learning outcomes are participant-oriented, observable, measurable, and achievable. Describe the skills, knowledge, and/or learning outcomes participants will be able to demonstrate because of this session. See Appendix B – Writing Learning Objectives
Step 4: Select up to two Pathways. Your submission will be reviewed according to the pathway you select. If your proposal is accepted, your proposal will only appear in the track that the program committee selected it for. See Appendix C - Pathway Definitions
Step 5: Select Level of Expertise. Is your session geared towards museum professionals at a stage in their career? The levels you select should be appropriate for your idea.
Step 6: Define your target audience.
Step 7: Enter Session Abstract for program (500 characters maximum) - Please consider your session description carefully. Make sure it clearly states the topic, what knowledge you expect attendees to gain, and how they will be able to apply that knowledge after attending your session.
Step 8: Enter Detailed Session Description. The full session description may be up to 2500 characters describing your proposed topic. Please describe the major themes, challenges, lessons learned, and practical applications for other organizations/entities. Include description of intended audience. Be as complete as possible to allow the review committee to fully understand the scope and goals of your session.
Step 9: Enter Desired Session Format. See Appendix A - Session Formats
Step 10: Enter Session Chair First Name, Last Name, Email, and Role.
Step 11: Enter Confirmed Panelists First Name, Last Name, Email, and Role, if known.
Step 12: Submit Your Proposal by July 10, 2023 at 11:59 PM CST
Scoring System
All session proposals will be reviewed and scored during the second meeting of the TAM Program Committee using a 20-point scale. Those with the top scores will move on to a second round of review completed by the second face-to-face meeting of the TAM Program Committee. These rankings will be used by the Committee to select sessions for the final program. Reviewers will rate proposals using the following scoring system:
Max Value Criteria
4 - Speakers demonstrate knowledge and the ability to present material in an effective and meaningful way.
3 - Learning objectives are clear, relevant to the topic, and audience appropriate.
4 - Proposed session provides attendees with relevant, timely, and applicable content.
2 - Proposed session aligns with the specified format and length.
3 - Proposed session offers diverse perspectives to a range of disciplines (history, art, science,
etc.), and diverse contexts (multicultural, international, museum size, etc).
4 - I would recommend this session to an attendee interested in the subject matter.
Speaker Policies
TAM requires that all session speakers register for the annual meeting in order to achieve an accurate count and obtain accurate contact information.
a) Speakers who attend only their session or the day that their session is being presented do not pay registration fee but must register before the end of the early bird rate. Speakers are required to pay for other ticketed events for that day. If presenting on multiple days, they must pay at minimum the $100 day rate.
b) Speakers who register for ticketed events, tours, workshops, or any other portions of the conference pay regular registration fees.
c) Speakers who pay the complete registration fee will receive a $100 discount if registered before the end of the early bird rate.
d) TAM does not offer speaker honoraria. Occasionally, a session might be underwritten by an affinity group or regional group. TAM does not budget for speaker honoraria.
e) TAM does not cover travel expenses for session speakers.
f) TAM provides lunch and/or event tickets to speakers at the discretion of TAM staff.
g) Vendors and Consultants. Museum vendors and consultants may serve as speakers. However, it is important that they share their expertise and not use their presentation as an overt way to promote their services.
h) Representatives of professional service organizations. TAM waives registration fees for colleagues at the American Alliance of Museums, American Association of State and Local History, Institute of Museum and Library Services, Texas Commission on the Arts, Humanities Texas, Texas Historical Commission, National Endowment for the Humanities, Mid-America Arts Alliance, National Science Foundation, and other applicable service organizations.
i) Keynote and General Session Speakers will be handled separately by TAM staff.
j) VIP comps and host community officials will be handled separately by TAM staff.
Review Process Timeline
· Presentation Submission Deadline - July 10, 2023
· TAM Program Committee Reviews and Rates Presentations (Virtual Meeting) - July 2023
· TAM Program Committee Develops Final Program (Virtual Meeting) - August 2023
· TAM Program Committee Submits Final Accepted Proposals to VP PC – September 2023
· Submitters Receive Notification - October 2023
· TAM Annual Meeting – April 14-17, 2024