DIVCOM UNITES OVER COMMON GROUND…AND BINGO.
Date posted
August 28, 2020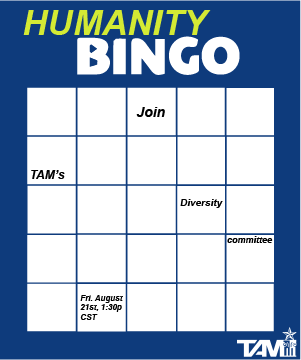 DIVCOM UNITES OVER COMMON GROUND…AND BINGO.
Laughter. Outbursts of song. A spontaneous Disney gift from one colleague/friend to another. Stupid human tricks.
These things, plus so much more, characterize the first ever fun-filled edition of DIVCOM's "Humanity BINGO." Colleagues from around the state gathered virtually on Friday, August 21, to escape regular life for a while and connect over commonalities and the personality quirks that bind our corner of humanity together. While diversity encompasses the significant issues of social justice and equality, sometimes it's important to step back, take a breath, and remember that diversity also means that some people are freaked out by birds while others stare out their quarantine windows at a custom bird feeder hosting the cardinals vs the blue jays. And for an hour, everyone forgot about COVID, the economy, elections, and that creepy artifact nobody knows how to catalog, and just enjoyed great company and the stories each had to contribute.
Many thanks to DIVCOM for hosting and to Emmy Laursen and Kheli Willetts for getting the meeting organized and the digital BINGO cards made and distributed!
*Interested in playing fun games and tackling DEAI issues in an open, non-threatening environment? DIVCOM (Diversity Committee) wants YOU! DIVCOM is a TAM Affinity Group for all levels/types of museum professionals who share the goal of DEAI in Texas museums and the museum community. Email? for more information.