Meet Vault's New Conservation Team!
Date posted
December 9, 2020
Vault Fine Art Services is thrilled to announce the recent addition of a conservation department to our company! In addition to storage, installation, transportation and collections management, Vault now offers in-house conservation services for your collection, fulfilling our mission to care for all aspects of art.
Heading up our newly-established conservation department is Objects and Variable Media Conservator Meaghan Perry, previously of The Menil Collection, and Conservation Technician Katherine McKerley, previously of Silver Lining Art Conservation. Perry and McKerley each bring over 12 years of conservation experience to their new roles at our company. Please join us in welcoming them to the Vault team!
In this introductory newsletter, conservator Meaghan Perry will discuss formative experiences from her conservation career— there's fake blood, mystifying mummies and ancient roman mosaics —and touch on what it means to be back in Austin joining the Vault team. We'll also hear from senior conservator Catherine Williams, longtime Vault collaborator, on what Perry and McKerley bring to the Austin art community.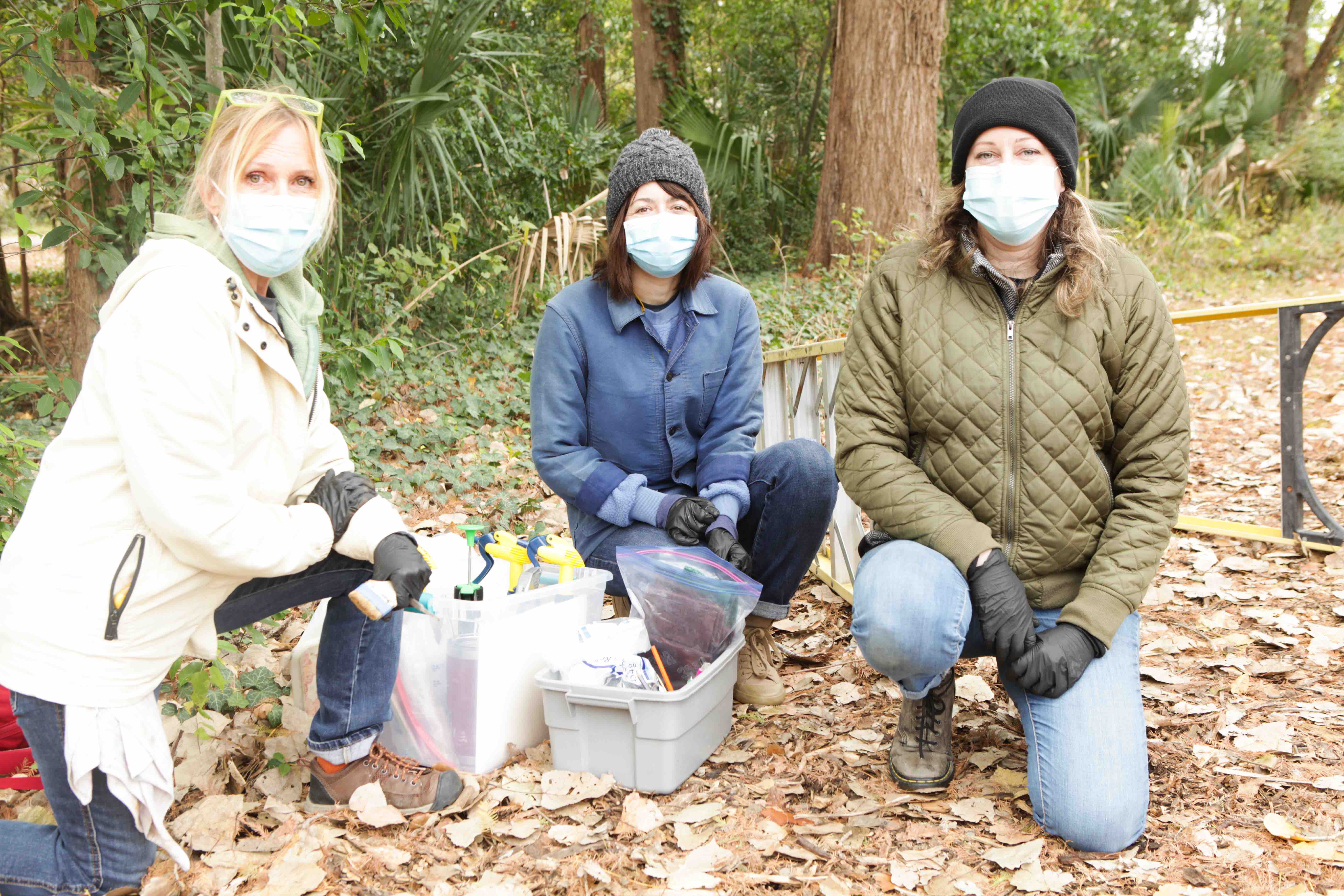 From left: Amy Scofield, Meaghan Perry and Katherine McKerley.

Austin's Homegrown Conservator
By: Mary K Cantrell
New to Vault, but no stranger to Austin's art community, conservator Meaghan Perry is a native Austinite who studied studio art at The University of Texas before moving to Buffalo, New York to study art conservation at SUNY College.
Prior to entering private practice, Perry was the Assistant Objects Conservator at The Menil Collection in Houston, Texas, and has contributed to projects at the Solomon R. Guggenheim Museum, SFMOMA, the Brooklyn Museum, the Smithsonian Institution's Hirshhorn Museum and Sculpture Garden, the National Institute Stobi, and the Harry Ransom Center.
Perry's extensive and highly-varied experience has included performing biennial cleanings of Judy Chicago's epic feminist installation "The Dinner Party" and assisting in refabrication tests for Janine Antoni's "Lick and Lather," soap self-portrait busts.
Multiple factors, rather than one lightbulb moment, influenced Perry's decision to pursue conservation, including her early family life. Perry's mother had an appreciation for the arts and sent her and her brother to unconventional children's camps, like bread making and weaving. Perry also began playing the violin at a young age. Having knowledge of these niche pastimes got Perry thinking about more real-world skills she might develop in the future.
"I had developed a bunch of weird skill sets that are not useful for anything except like, being like a 16th century dilettante," Perry laughs.
Perry credits the '70s atmospheric horror film "Don't Look Now" for introducing her to the concept of a conservation career. Perry recalls a scene where the main character, Donald Sutherland, madly sketches at a drafting table, surrounded by architectural renderings, as he lays restoration plans for a Venice church.
"I was like, what's he doing? That's so cool. I want to restore a church or do something that allows me to travel to different places out of necessity. I want to be an art restorer."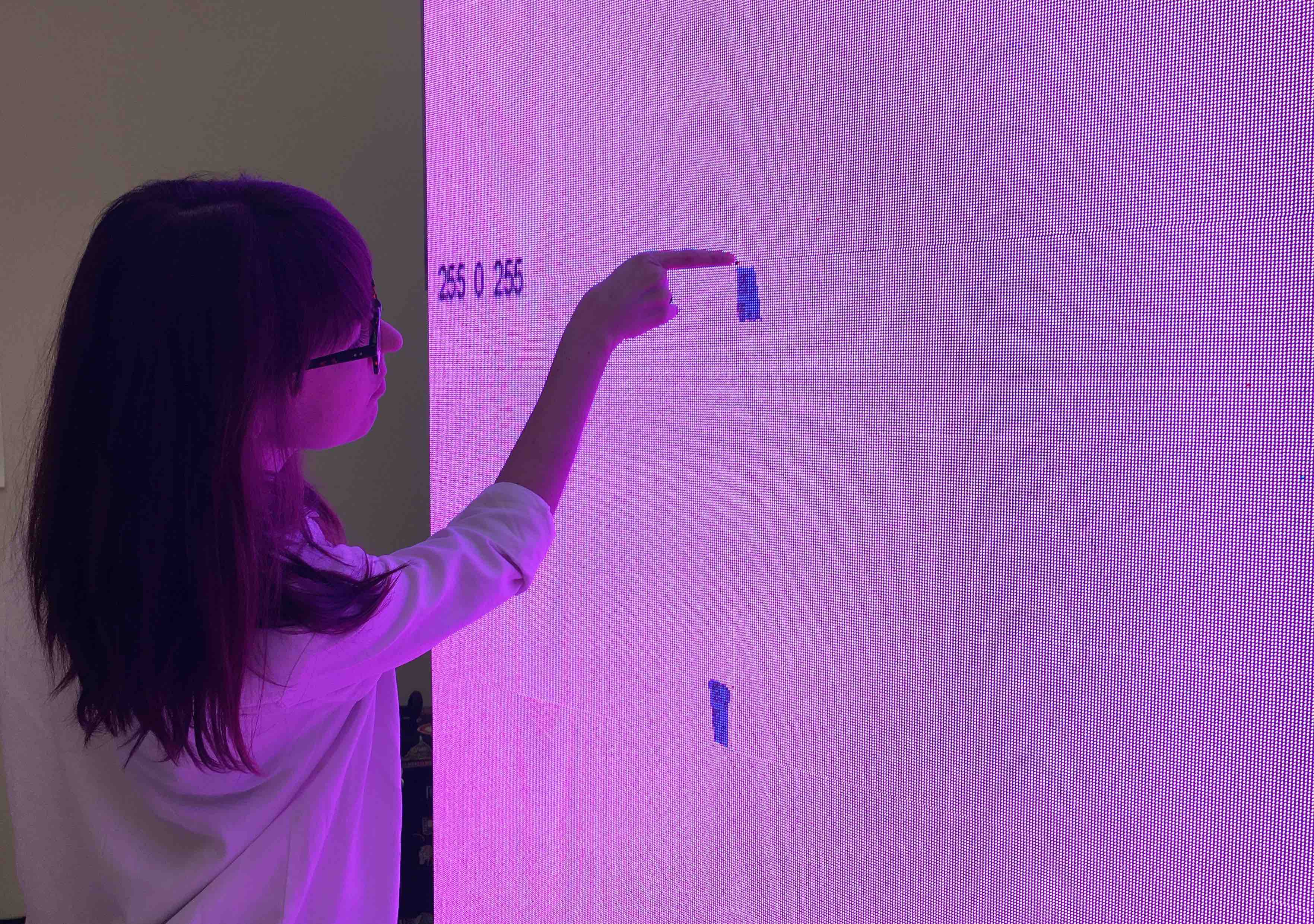 Going to the movies continues to be one of Perry's preferred pastimes. Years later, Perry would rediscover her interest in conservation while pursuing a studio art degree. Luanne Stovall, a studio art lecturer at UT Austin, was also a major influence on the way Perry viewed her artistic career. Stovall emphasized the practical ways to make a living as an artist, introducing her students to a variety of career paths by taking them around UT's campus to the business, theatre and architecture schools. On one trip to the architecture library Perry witnessed students from the Kilgarlin Center treating original Frank Lloyd Wright blueprints.
"I was totally dazzled. I was like 'whoa, you get to touch those and interact with them and spend time with them?' That's amazing."
With growing interest, Perry decided to contact the Harry Ransom Center and landed her first conservation internship in the book and paper and preservation labs. One of her early projects was to help build mounts for seven of Robert DeNiro's shirts from "Cape Fear" (DeNiro's film archives are housed at the HRC.) The shirts, all with varying levels of rips and blood stains, were used for continuity shots in the film. Fake blood on one of the shirts was effectively dissolving the fabric and the mounts were positioned to prevent further damage, says Perry.
She also treated a handwritten page from "The Hounds of Baskerville" by Sir Arthur Conan Doyle while at the HRC. Perry says breaking into the field of conservation with little experience can be extremely challenging and credits her internship at the HRC for opening future doors.
From UT, Perry went on to pursue a masters degree in art conservation from SUNY Buffalo, which only accepts ten students a year to its art conservation program.
For her graduate thesis Perry worked on Holocaust-era looted Judaica, or Jewish ceremonial art. Perry worked to restore wimples, long fabric sashes made from cloth used to swaddle baby boys during bris ceremonies that were then embroidered with the child's name and a protective prayer. Wimples, which were often stained with blood from the bris, were present for many meaningful religious ceremonies in a man's life, such as his bar mitzvah or wedding. To this day the wimples stand out to Perry as some of the most hauntingly personal objects she's worked on.
A spice box and torah finials, all made of silver, were also a part of her thesis work. The finials had been severely crushed, rendering them useless as beautiful ceremonial objects. Perry explains how conservation ethics were at play.
"You're trying to figure out, how far do you restore this? Or do you restore it? Or what do you do to make this thing usable, but still a teachable object?"
Perry ultimately decided to restore one finial to its original beauty, casting new bells for it, and to leave the other one crushed to help tell the story of what happened to the object and why.
In addition to acting as storytellers, conservators are also required to play detective from time to time, says Perry. During her time as a graduate intern at The Brooklyn Museum the conservation team set out to discover the contents of an unidentified animal mummy bundle shrouded in oxidized linens. They took the mummy to the Natural History Museum in New York to run it through the Micro-CT scanner. The contents, to their surprise, was not one big animal, but hundreds of small shrews.
"You're seeing the layers come off as it's being Micro-CT scanned and you can run your mouse across the image that is created," says Perry. "And there's all these tiny little skeletons. It was just so unexpected."
This episode was also an example of the way conservators often borrow tools from other fields, like the medical industry, forensic science and more. Some of Perry's favorite tools are dentistry tools. Perry says while it can be fun to play art detective and research weird anomalies, or tell stories through the conservation of objects, she most resonates with the interpreter definition of conservation.
"I think about it like this: there is this existing thing that someone has made and for some reason it's not legible to everyone. Whether it's covered in a layer of dirt, it's crumpled or broken somehow, there's something that's keeping this part of the world from reading and understanding what this thing is," says Perry. "My job is to figure out a way to make it more accessible to more people, and not just available to more people now but to more people throughout time."
Perry, who specializes in time-based media (video, sound and performance art) in addition to objects conservation, says she always found video and sound art compelling and was interested in how to preserve it for future generations.
"I remember thinking, we are doing all of these things to look at archeological artifacts and trying to figure out how people lived from the detritus that we have access to. What are we doing to preserve the things we are creating now?"
Perry also spent time working abroad at Stobi, an archeological site in Macedonia, to remove and conserve ancient roman mosaics and an old fresco that was removed from the site in the '70s. Perry learned how to work on an international team and how a variety of elements can influence an archeological site, from the role of social unrest in Macedonia, a former Yugoslav Republic, which led to unpredictable fluxes in funding, to the sometimes unideal weather conditions.
"We were working outside, it was mid-Summer, and there were summer rainstorms and we were always against the clock, you'd spend two days prepping something to remove it using this water-soluble fish glue and then it would rain," Perry laughs. "Then you'd have to redo all the work you'd just done."
After gaining conservation experience around the U.S. and the globe, Perry says she is ready to be back in her hometown of Austin to give back to the art community.
She's also revisiting a relationship with Senior Conservator Catherine Williams, who she interned with at Silver Lining Art Conservation in college. She credits Williams, who has long worked in tandem with Vault and now assists on a project to project basis, for teaching her how to clean sculpture and opening her eyes to the sheer amount of art in the city.
"This is where I want to be. I think there was a part of me growing up and going to art school at UT that always felt like there was not enough art in Austin," says Perry. "I didn't realize until I started working with Catherine as an intern how much art there really is in Austin."
Williams says Perry's sense of judgement, critical thinking, problem solving skills and ability to communicate clearly make her a joy to work with. Williams says she gains a lot from Perry's insights and fully trusts in her combination of high-level abilities and enthusiasm for conservation.
"It's really fantastic that Meaghan is, in some sense, Austin's homegrown conservator. She's come up in her career as a conservator and returns to Austin because she saw this need for the care of artwork in the city," says Williams.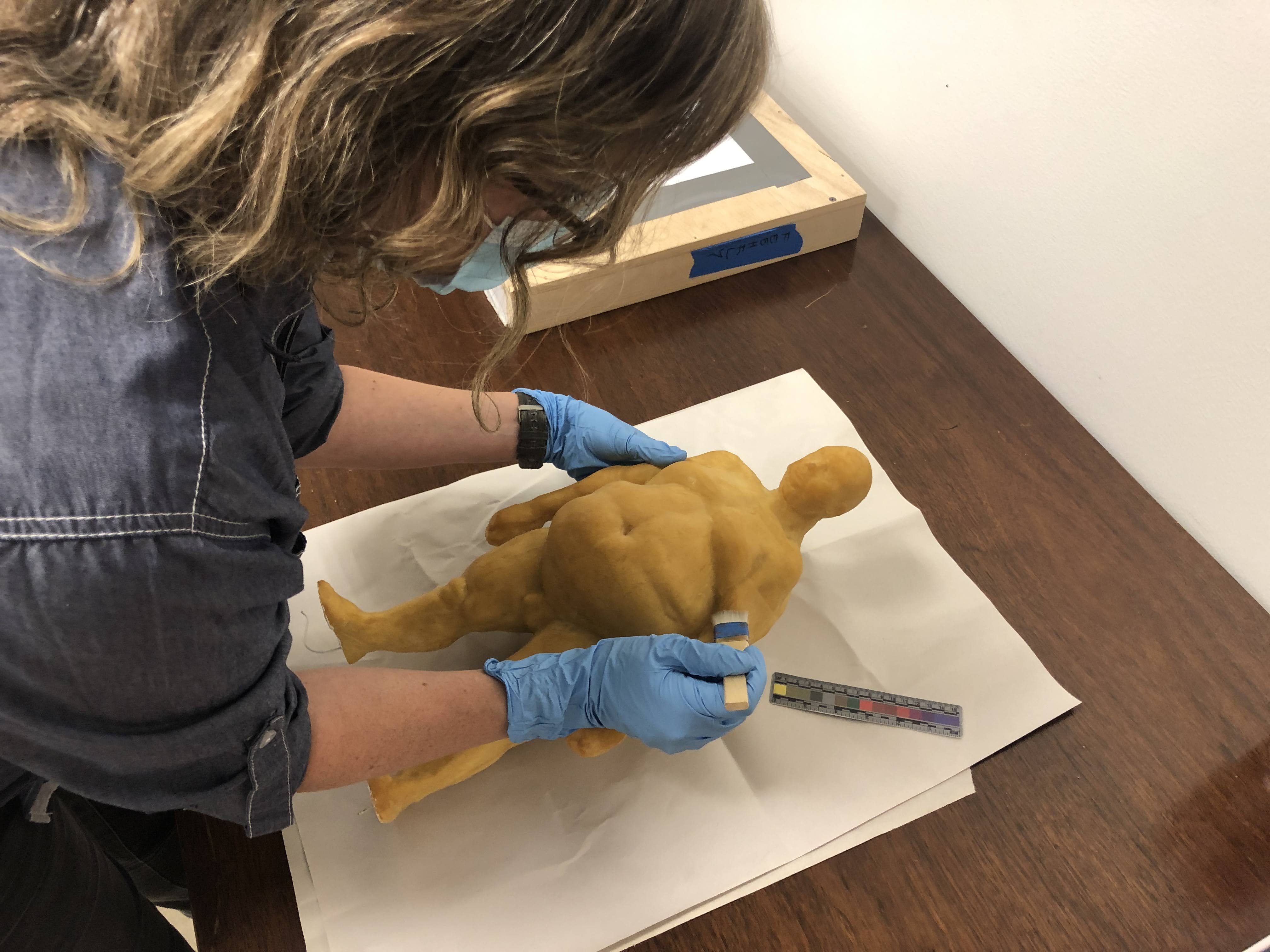 Far from a one-woman show, in addition to a continued partnership with Willams, Perry is working alongside Conservation Technician Katherine McKerley who worked at Silver Lining with Williams for twelve years. Williams says she was first made aware of McKerley's amazing hand skills and knack for detail while visiting a house McKerley shared with her brother. McKerley's color-coded bookshelf organization and freehand wall painting made a lasting impression on her.
"Katy really knows how to get into the flow of doing a job. Whether it's the cleaning of a sculpture that's about to take eight hours, or managing a hectic schedule," says Williams. "She just has a tremendous capacity for focusing on a task or a project."
Perry says she is excited to work alongside McKerley and to be a part of Vault's efforts to give back to Austin's artists, making Austin a better place for art and artists to thrive.
"Its so cool to be working with people who are not only really professional in terms of handling art and being stewards for collections of artworks but who are themselves also artists who are really keyed into those communities," says Perry.