Academic Showcase Competition | TAM 2024 Lubbock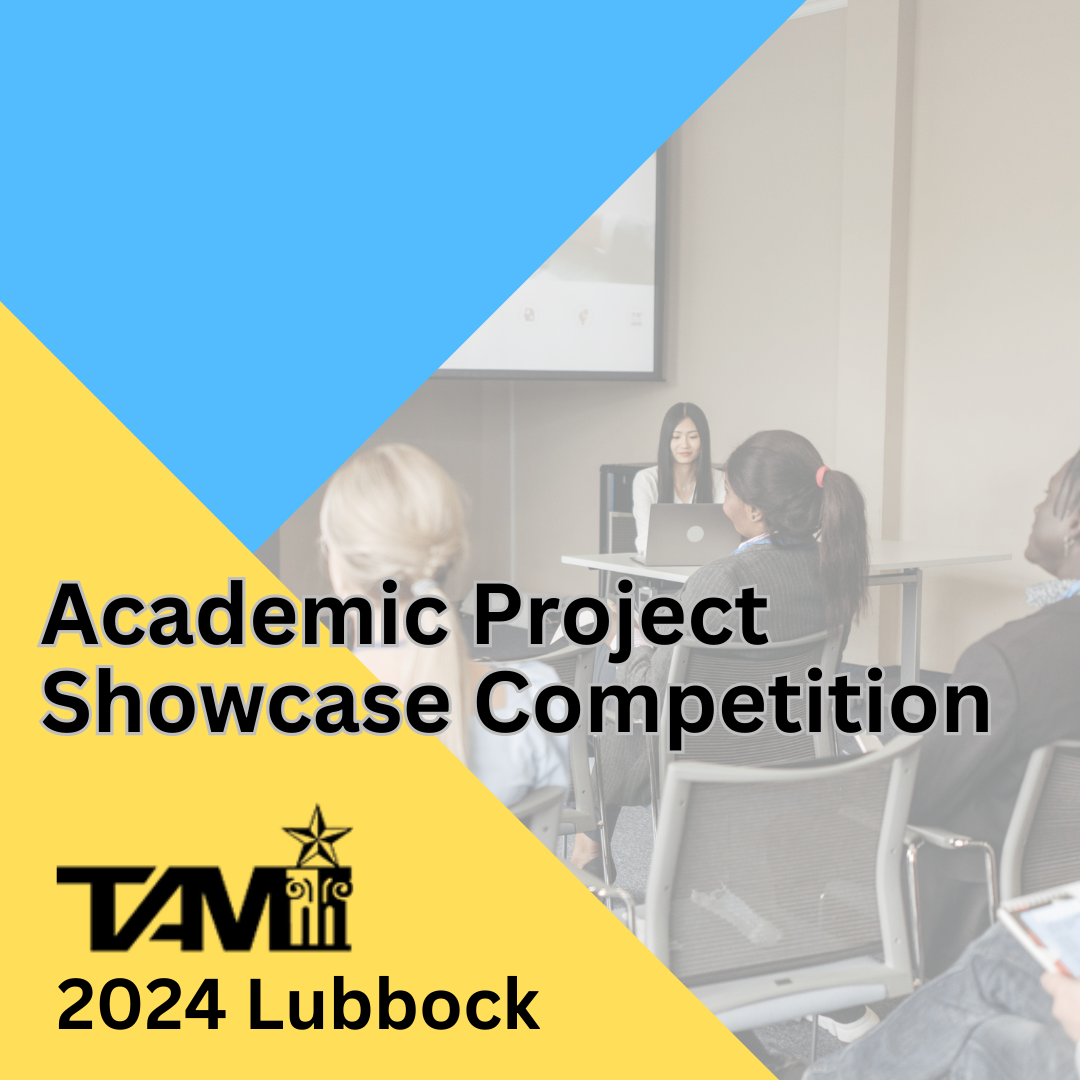 TAM ACADEMIC PROJECT SHOWCASE COMPETITION
1. About
2. Submission Guidelines
3. Important Dates
4. Submission Form
5. Guidelines for Abstract
6. Scoring Rubric
1. ABOUT THE ACADEMIC SHOWCASE COMPETITION
For the TAM 2024 Annual Meeting in Lubbock, the Texas Association of Museums will host our inaugural Academic Project Showcase and Competition. The showcase will provide an opportunity for students to present their research contributions to the museum field before a state-wide audience of scholars and museum professionals. Accepted projects will be included in the TAM 2024 Annual Meeting mobile app, and presentations will be judged by a panel of museum experts at the conference. The three highest-ranked Academic Projects will receive a TAM award and recognition at the conference. Students interested in presenting should submit short abstracts and support materials that align with one of the project categories listed on the submission form. Proposals from TAM student members in all colleges and campuses are welcome. Conference organizers are committed to establishing a diverse Academic Project Showcase that is reflective of the various TAM members and the communities they serve - submissions from women, minorities, individuals with disabilities, and veterans are highly encouraged. Winners will receive recognition at the Annual Meeting, in the TAM Newsletter, and on the TAM website.
2. STEPS FOR SUBMITTING AN ABSTRACT
Step 1. Complete a submission form including 250-word abstract, acknowledgement of faculty or professional mentor approval, and any necessary supporting documents or resources by January 22. Notification of project acceptance will be delivered in early February.
Step 2. If your project is accepted, register through your university for a full conference registration at the discounted student rate, or register for a complimentary day pass to the TAM Annual Meeting for the day of your presentation (information will be provided for this if you are selected).
Submission Policies
There is a limit of 2 (two) submissions per student. Each submission must include acknowledgement of faculty or professional mentor approval (sponsor, mentor, museum professional, etc.) with completed application materials by January 22, 2024 to confirm the submission was created while the applicant was a student.
Eligibility
There is no fee for submission if you are a student in any academic program. Students who submit will receive one complimentary Student TAM Membership. More info on $25 Student Memberships here and Academic Memberships here.
Note
Jury reviewers may project feedback, but it is recommended that students seek project feedback from their faculty or professional mentor sponsor.
3. IMPORTANT DATES
June 23, 2023 - Call for abstracts open
January 22, 2024 - Call for abstracts closed
January 23-January 31, 2024 - Jury Review
February 2024 - Notification of Submission Acceptance to the Annual Meeting
April 14-17, 2024 - TAM 2024 Annual Meeting
April 16, 2024 - Academic Showcase Competition Session
Notifications: Email notifications of acceptance will be made in early February 2024. Students whose abstracts are accepted are invited to present at the TAM Annual Meeting in Lubbock. Detailed information will be provided when the conference schedule is released.
4. SUBMISSION FORM
Complete a Submission Form here, including 250-word abstract, acknowledgement of faculty approval, and any necessary supporting documents or resources.
5. GUIDELINES FOR ABSTRACT
See the Abstract Guidelines here.
6. RUBRIC
See the Grading Rubric here.
---
Questions?
Contact us at:
Academic Showcase Competition Chair
Amanda Biles
Director of Public History
Abilene Christian University
abt19a@acu.edu


TAM Executive Director
Brittany Petrilli
admin@texasmuseums.org