TAM FAF Post 5: Recap of Technology Round-Up
Date posted
November 17, 2021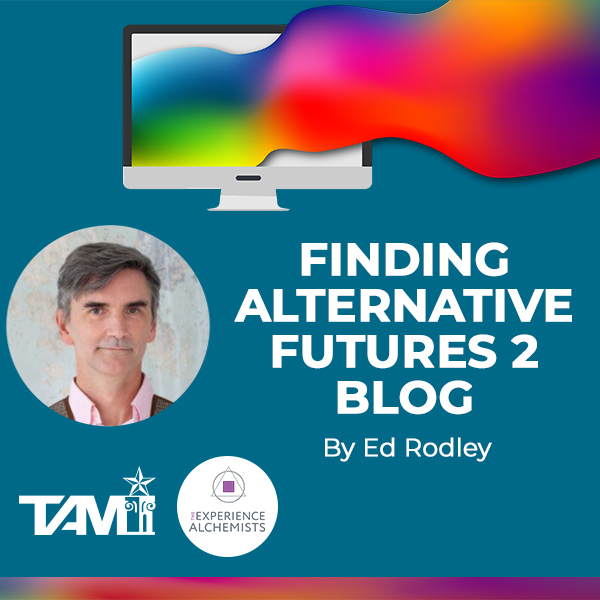 Hey TAMers,
If you missed our conversation last month with Elizabeth Merritt of AAM's Center for the Future of Museums and Koven Smith of the Knight Foundation, we've got you covered! You can find the full video of the event here, but we pulled out a few of our favorite bits of a wide-ranging conversation. They're only 3-5 minutes long, and each touches on a different subject of interest. So if you've only got a few minutes, take a listen, and join the conversation!
The Knight Foundation has been working with museums for over a decade on initiatives around digital innovation and staffing. I've referenced some of their reports in past posts, and asked Koven Smith, from his vantage point of working with museum leaders nationwide, about how museums are doing in 2021.
Both our guests had something to say about the best examples they'd seen of museums thinking outside the box to address some of the unique challenges of the pandemic shutdown.
And to wrap up the conversation, Elizabeth talked about how what's happening to museums is happening in every sector and industry.
That's all for now. Stay tuned for our next post coming on Wednesday, December 15. Til then, stay strong!
Ed
Co-presented by The Experience Alchemists.
The Experience Alchemists conjure unique experiences. Our team makes collaborative magic with an extraordinary cohort of creative partners and presents transformative moments to organizations, communities, teams, and individuals. theexperiencealchemists.com
Previous Blog Post is HERE
Watch all of TAM Labs Digital Fluency Videos on TAM's YouTube playlist HERE
Ed's posts are co-presentation between the Texas Association of Museums and The Experience Alchemists. They are released every third Wednesday through June 2022.