Bell County Museum Display Wins The John Nau III Excellence in Museums Award
Date posted
February 9, 2022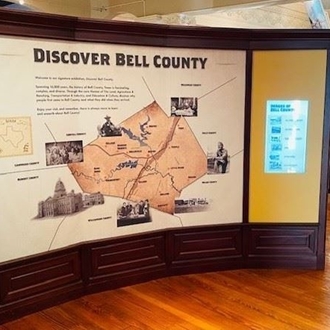 The Bell County Museum won The John Nau III Excellence in Museums Award for their exhibit "Discover Bell County." In honor of the Texas Historical Commission's Chair John L. Nau III, the Nau award recognizes significant achievement in conservation of collections, historical interpretation, museum education, and/or community involvement. The award was among the top distinctions given to preservationists, museums, and historians at the Texas Historical Commission's "Real Places 2022" conference this past weekend in Austin.
The Bell County Museum's exhibit "Discover Bell County" took decades of researching, planning, as well as a reimagining of the museum's previous permanent exhibit "Passport Through Time." Located in their Historic 1904 Carnegie Library, this exhibit takes visitors on a journey through Bell County History, exploring four themes of Bell County's past: The Land, Agriculture and Ranching, Transportation and Industry, and Education and Culture. Each theme covers part of the story of Bell County, Texas.

The exhibit includes historic photos on an interactive touchscreen, the famous Moustache Teacup Collection, paleolithic era artifacts, and more! "Discover Bell County" is quite notable for the way it embraces inclusive storytelling with intention.
Check out their website and plan your visit here: https://www.bellcountymuseum.org/