Lunch & Learn with TAM Webinar Series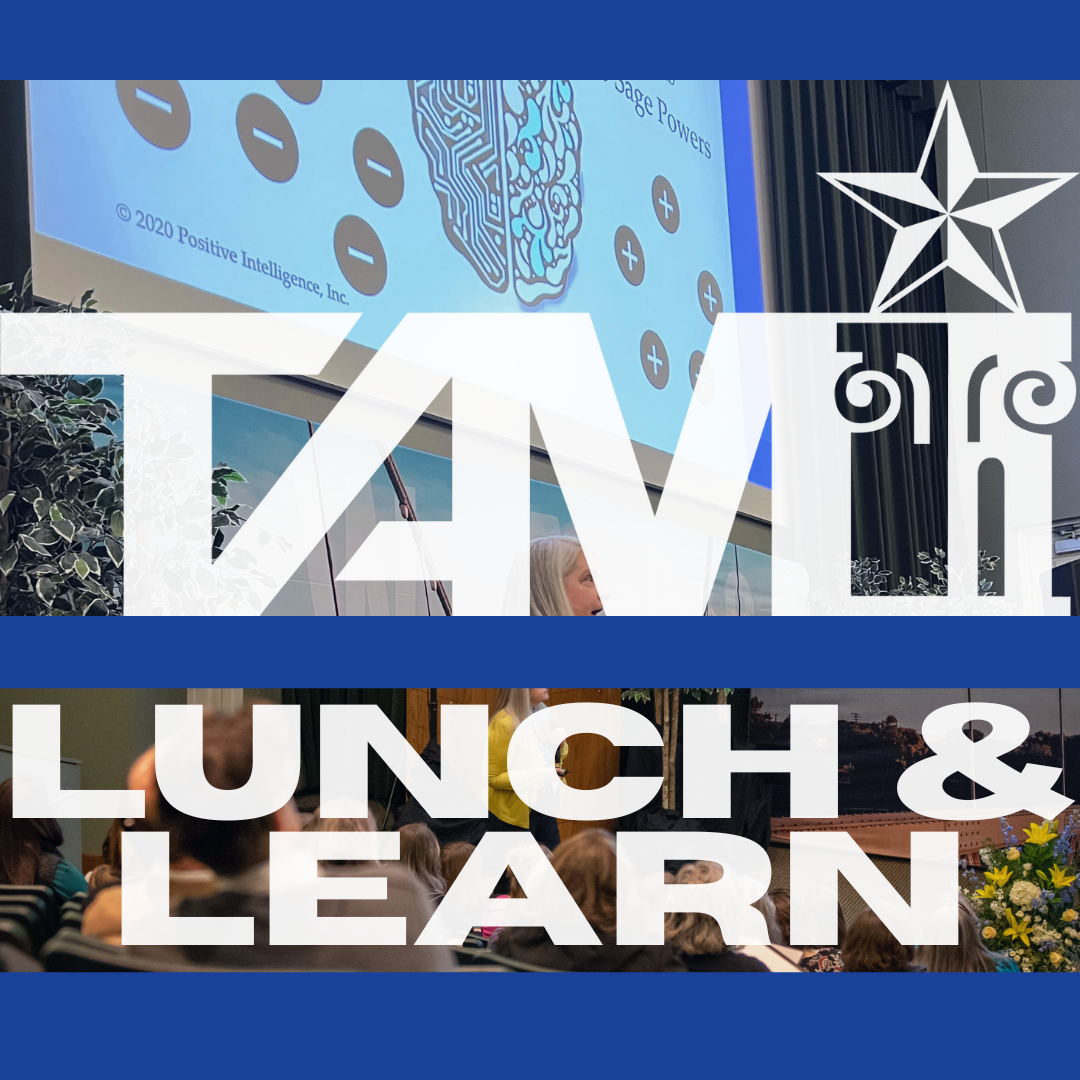 This summer: Learn at Lunch with TAM!
Each webinar series features a popular and highly regarded session from our TAM 2022 conference followed by a live Q&A with TAM Council Members and speakers.

Our first Lunch & Learn Webinar of the series starts June 30, 2022! Check out the schedule below of upcoming Lunch & Learn Webinar dates, session information, and speakers!
---
June 30, 2022
12:00pm
Museum Work: Developing New Earned Income Strategies
with Chris Dyer, President & CEO of the Dr Pepper Museum & Free Enterprise Institute
& Michelle Everidge, Chief of Strategic Initiatives at the Witte Museum
Session details: The COVID-19 pandemic has required many businesses, including museums and nonprofits, to change their business strategies in the wake of forced closures, reduced funding and limits on gathering spaces. This program will share some of the innovative ways Texas museums have shifted their business models as a result of the pandemic and, in so doing, strengthened their community-based missions and visions.
---
July 7, 2022
12:00pm
The Value of Museums: Enhancing Societal Well-Being
with John Falk, Executive Director of the Institute for Learning Innovations
& Margaret Koch, Director of the Bob Bullock Texas State History Museum
This session will focus on how museum professionals can better understand and explain the benefits of museum experiences. Knowingly or not, the business of museums has always been to support and enhance the public's personal, intellectual, social, and physical well-being. Over the years, museums have excelled at this task, as evidenced by the almost indelible memories engendered by museum experiences. People report that museum experiences make them feel better about themselves, more informed, happier, healthier, and more enriched - all outcomes directly related to enhanced well-being. Historically, benefits such as this were seen as vague and intangible, but Falk will describe how enhanced well-being, when properly conceptualized, can be defined and measured. The talk will conclude with suggestions for how these insights about well-being might be used as a strategy for helping museums better adapt to the rapidly changing and challenging times ahead.


About John Falk: Dr. John H. Falk is Executive Director of the Institute for Learning Innovation and Sea Grant Professor Emeritus of Free-Choice Learning at Oregon State University. He is internationally recognized as a leading expert on free-choice learning; the learning that occurs while visiting science centers, museums, zoos, aquariums, or ecotourism sites, watching educational television, or surfing the Internet for information. Dr. Falk has authored over 200 articles and chapters in the areas of learning, ecology, and education, two dozen books and helped to create several nationally important out-of-school educational curricula. His most rent book is The Value of Museums: Enhancing Societal Well-Being (2021, Rowman & Littlefield) which establishes a new way to define and measure the value of cultural and educational experiences. His current research focuses on studying the reasons people engage in free-choice learning and the impacts that free-choice learning settings such as museums, national parks, and science centers have on the publics that use them. He also has a keen interest in exploring new ways of thinking about, measuring, and supporting science literacy and professional learning.
---
July 14, 2022
12:00pm
Leading for Success and Happiness
with Barbara Leggett, Founder of the Happiness Center of WNY
& Charlie Walter, Director of the Mayborn Museum


Leaders have been under inordinate amounts of stress in recent years. The stress of keeping our institutions alive and vital – along with the stress of life since 2020 - impacts our ability to lead. This session explores how you can lead a happier, more productive, and more successful life. Learn how perspective can change your abilities, and how to shift it quickly. Hear key questions to ask for the best results and how curiosity helps us reach our full potential.
---
July 28, 2022
12:00pm
Transition to Leadership: An Introduction to Leadership for New or Emerging Museum Leaders
with Rachel Woods, President & CEO of Leadership Trek Corp.
and Council Members Ann Fortescue, President and Executive Director of the International Museum of Art and Science
& Kheli Willetts, Principal of Dira Professional Development, LLC
Transitioning into a leadership role can be challenging. Museum professionals who thrived in previous roles
may find a new management position different from what they expected. New managers must shift their mindset from that of an individual contributor to that of a leader. This session is a survey of leadership principles and practical leadership skills for new managers. Specifically, participants will learn the difference between management and leadership, how to motivate others, how to delegate effectively and how to approach conflict.
---
August 11, 2022
12:00pm
Calling All Guardians of Culture! You Have Superpowers - and the Universe Needs You
with Fiona Bond, Executive Director of Creative Waco & President of Texans for the Arts
& Alex Freeman, Executive Director of the Texas Association of Museums
Session Details: Civilization is a mess, divided, confused and needing help. If only there were some superheroes around who could help us learn from the past, evaluate evidence, bring people together and inspire us to unite around shared principles, ancient knowledge, curiosity, beauty and hope. Could the cultural sector offer a positive path through messy and uncertain times? If so, what are the obstacles and opportunities, and how should we combine forces?
About Fiona Bond: Fiona Bond came to Waco from the UK, where she had over 15 years' senior management experience in the arts and cultural sectors and in the intersection of the arts with economic development, faith and human flourishing. She has directed cultural initiatives for Baylor, Durham, Cambridge and St Andrews Universities, Durham County Council, Durham Literature Festival, Lancaster Literature Festival, Kettle's Yard Gallery (Cambridge University's Modern Art Museum) and Dundee Contemporary Arts. She is author of 'The Arts in Your Church' (Piquant, 2001) and a number of festival, gallery and music guides. Fiona's core expertise is the intersection of the arts with economics, faith and well-being; in other words, she is passionate about creating well-rounded, vibrant communities in which all participants can thrive. She has a BA (hons) in Theology from Durham University (UK) and an MBA (hons) from The Hankamer School of Business at Baylor University. She juggles her role as Executive Director of Creative Waco with being parent to two active sons and plays bagpipes with her younger son for relaxation. In 2020, she was honored to be recognized as "Wacoan of the Year" by Wacoan Magazine and in November 2021, she was elected President and Chair of Texans For the Arts.
---
Keep coming back to check for updates and new sessions!
Join us in living out our motto: lifelong learning with lifelong friends.