TAM FAF2 Post 3: Organizational Capacity and Continuity
Date posted
September 15, 2021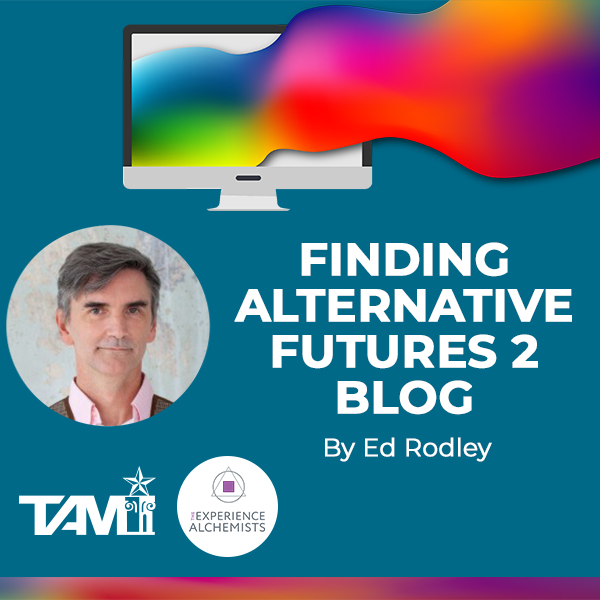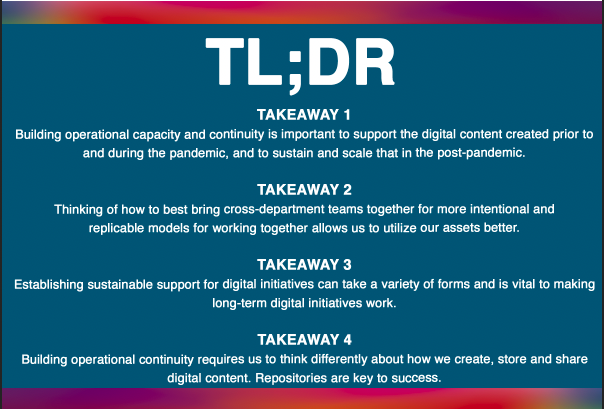 Operational Capacity and Continuity
Greetings, TAMers! This month, as more and more organizations reopen in Texas and across the country, we're going to be looking at factors influencing your digital operational capacity and continuity. When the pandemic forced museums to shut down their physical sites, the resulting "pivot to digital" generated not only new kinds of programming and ways of working together, but also new audiences. Now, as sites across the state are starting to welcome visitors back, it's a great moment to take stock. In this post we'll look at how our increasingly digitally-enabled operations can work together and establish priorities and policies for business continuity that make our museums more digitally confident and resilient organizations.
The pandemic forced us to figure out new ways to work together and for many of us, it was a crash course in how to work remotely and create digital content. How we keep working across traditional silos will be a critical issue to figure out, especially as the pressures of working on site return. Museums digital programming may have taken huge steps forward, but solidifying and sustaining those gains will still be a challenge in traditional organizational structures.
Collaboration
The pandemic "pivot" was actually a real shift in digital practice. Typically, digital engagement has been added to existing job duties, and that overhead of "do everything you've always done, and also all this online stuff, too!" is a huge problem in the field. If you're looking for a baseline to use in your thinking about what your post-COVID workplace could look like, the Knight Foundation's Digital Readiness and Innovation in Museums report, compiled just before the beginning of the pandemic in late 2019 is a great place to start. One of the reports key conclusions was that "Constructing cross-departmental teams to focus on digital, and providing training for that effort, will enable museums to be more resilient to a hybrid in-person/online dynamic that may become commonplace in the next few years."
That kind of collaboration was on full display during the pandemic. AAM collected some examples in Adapting to a Hybrid Reality: Accelerating a Digital Methodology and Mindset at Your Institution. In addition to listing concrete suggestions for creating a more hybrid-friendly, cross-functional work culture at your museum, the authors asserted that "the primary benefit of digital working methods comes down to a shift in mindset, one in which change becomes exciting, collaboration reveals opportunity, and continued education is valued and supported." This shift in mindset is one of the cornerstones upon which Finding Alternative Futures has been built.
Building support and capacity
All the above sounds very forward thinking and compelling, but what could this look like in practice? The best example I've seen to date is actually an older one. The Cooper Hewitt Smithsonian Design Museum went through a reinvention process several years ago that involved a complete rethinking of how digital information ecosystems are created. Though it is several years old now, this post from Seb Chan, The API at the center of the museum, remains one of the clearest examples of what an integrated system of digital tools and platforms (what developers call a "software stack") can look like in a museum.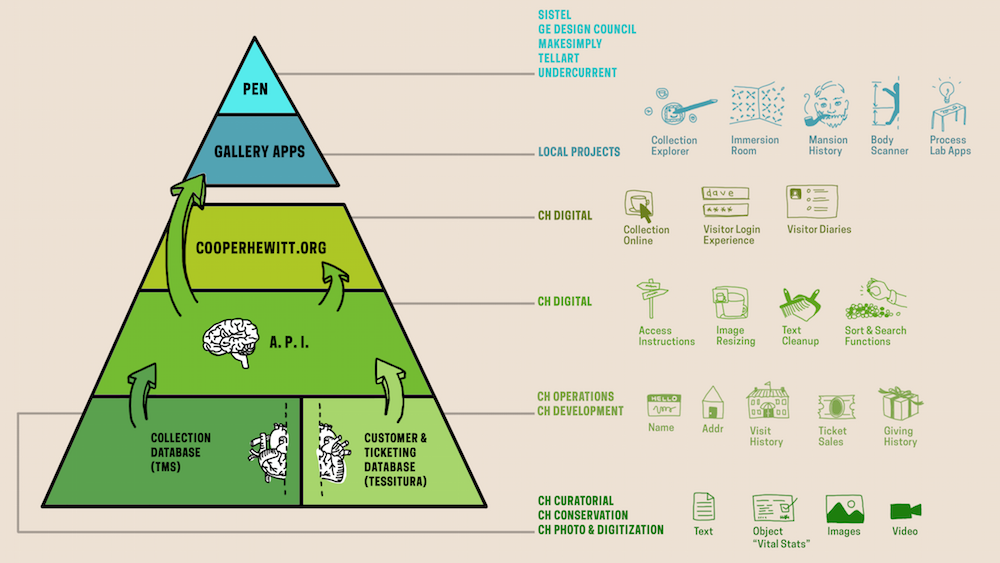 Don't be put off by the acronyms. What's great about the system they developed is that it is based on repositories museums already use. There is one platform for keeping track of objects, a Collections Management System (CMS), and one platform for keeping track of people, a Customer Relationship Management System (CRMS). These kinds of repositories are called "sources of truth" in the software industry, since they're the place you go to find the information you need. Collections people live by their CMS. Membership and Development departments make tremendous use of CRMs. What the Cooper Hewitt model does though is demonstrate how they can be the foundations of a system that underlies and connects everything the museum does, through the use of a piece of software called an application programming interface (API), that allows different systems to communicate with each other.
Two things make this model important. First, this system prioritizes adding content at the bottom of the pyramid rather than creating standalone projects at all different levels. This means that content can be pulled out and served wherever it is needed, via the API. This avoids the problem of orphaned content that plagues a lot of museum digital efforts. Second, by focusing on the repositories, anything that enriches the records is easily shared. Where this involves visitors, this can become transformative. Rather than having multiple systems that know a little bit about people, e.g. Visitor Services knowing they bought tickets, Membership knowing whether they're members or not, Development knowing whether they're donors, all their interactions with the museum can be connected to give you a fuller picture of their relationship with the organization. And in Cooper Hewitt's case, where they allow visitors to digitally collect information as they visit, this also gives the museum insight into what they do while they're in the museum or on the website. The potential upside is enormous.

But I realize that Cooper Hewitt is a real edge case. They're well-funded, well-endowed, and possessed of staff with deep digital technology expertise. What's a small institution with real capacity limitations supposed to do? One of the most important things is to band together and find strength in numbers. Associations like TAM are more important than they ever have been because of this need to bring groups together and collaboratively figure out how to survive and thrive.
One of the best examples of the power of the network effect comes from Europe. Europeana is a consortium of Europe's cultural institutions that has been trying to help European GLAMs become more digitally confident for years. Last year, they published Culture at a crossroad: How a landscape of ideas emerging from the COVID-19 crisis can lead to digital change in the cultural heritage sector. One of the key findings was that working across specialties was key, but also that those collaborations "should not only be a virtual replica of our physical routines. We can take this opportunity to design and make new, accurate, specific and valuable solutions. This pandemic has given us cause, opportunity and permission to think and work outside our traditional boxes." The whole report is a good read, and if you're on Twitter (or looking for reason to try it) their #BuildDigitalCapacity hashtag is a great ongoing conversation that lets you see how your colleagues in Europe are using social media as a collaboration tool
Coming up next
Next month, we'll continue to help navigate your museum through these turbulent times.
Until then!
Ed
Co-presented by The Experience Alchemists.
The Experience Alchemists conjure unique experiences. Our team makes collaborative magic with an extraordinary cohort of creative partners and presents transformative moments to organizations, communities, teams, and individuals. theexperiencealchemists.com
Previous Blog Post is HERE
Download Blog Post HERE
Ed's posts are co-presentation between the Texas Association of Museums and The Experience Alchemists. They are released every third Wednesday through June 2022.