TAM 2021 Award Recipients
Date posted
April 12, 2021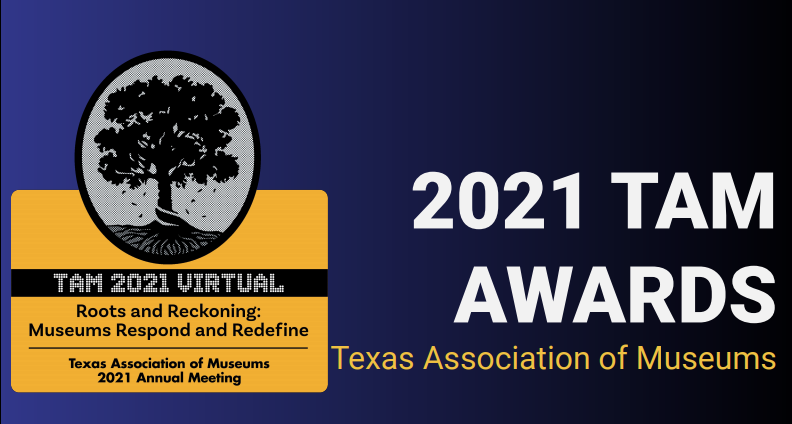 TAM Annual Award Winners Were
Recognized at the 2021 Annual Business Meeting
TAM is proud to announce the winners of its annual awards. Winners were recognized at TAM's Annual Business Meeting on Friday, April 16th, from 1:00 - 2:30 pm CT. The meeting was held via Zoom and was open to the public. RSVP here.
CONGRATULATIONS
to the individual receiving the following awards


Jo Steward Randel
Sue M. Lee
Brazos Valley Museum of Natural History


Jack Nokes Outstanding Service Award
Lynn Denton
President's Award
Judge Nelson W. Wolff
Bexar County
CONGRATULATIONS
to the following museums on receiving a TAMMIES Award
In-Museum Experiences
GOLD
The Sue S. Bancroft Women's Leadership Hall - Texas Woman's University
For: "Texas Map" Interactive

GOLD
Admiral Nimitz Foundation
For: Admiral Nimitz Gallery
Virtual Experience
GOLD
Brazoria County Historical Museum
For: Virtual Living History


GOLD
Art Museum of South Texas
For: Creative Distancing: An Exhibition of Community Creativity


GOLD
Mayborn Museum Complex, Baylor University
For:
Mayborn Connect


SILVER
Texas A&M University Art Galleries


For:

"Vedute e Visioni" Interactive Catalogue




SILVER
National Museum of the Pacific War
For: Distance Learning - Connecting to Classrooms Across the Globe
BRONZE
The Sixth Floor Museum at Dealey Plaza
For:
Dealey Plaza National Historic Landmark Interactive Guide
Social Media Campaigns
GOLD

Panhandle-Plains Historical MuseumThe Grace, The Old Jail Art CenterThe Center for Contemporary ArtsSan Angelo Museum of Fine ArtPetroleum Museum in MidlandNational Center for Children's Illustrated Literature
For:
Joint Online Learning Initiative
CONGRATULATIONS
to the following museums on receiving a Mitchell A. Wilder Award
Panhandle-Plains Historical Museum
GOLD & BEST IN SHOW
Annual Report
Briscoe Western Art Museum
GOLD
Briscoe Bison Society Dinner Invitation
GOLD
Night of Artists Exhibition & Sale Catalog
GOLD
The West Starts Here stationary
Art Museum of South Texas
SILVER
Phantom ARTBall Invitation
Bell County Museum
GOLD
Holiday Un-Party Invitation
Chisholm Trail Heritage Museum
GOLD
20 Year Anniversary Booklet
ABOUT JO STEWART RANDEL OUTSTANDING TRUSTEE AWARD
recognizes excellence and distinguished contributions by a volunteer trustee to museums in Texas. Presented each year at the Annual Meeting of the Texas Association of Museums, this award spotlights one outstanding trustee whose visionary leadership has made a significant impact on the museum(s) he or she serves. The award is named in honor and memory of Jo Stewart Randel (1915-2002), an exemplary museum trustee from the Texas panhandle.
ABOUT JACK NOKES OUTSTANDING SERVICE AWARD
was established to recognize significant contributions to the museum field, service to TAM, and truly remarkable individuals. Presented each year at the Annual Meeting of the Texas Association of Museums, this award is named in honor Jack Nokes, TAM Executive Director (1995 -2008).
ABOUT PRESIDENT'S AWARD
The President's Award is given annually by the TAM Executive Committee at its discretion to an individual, institution or "partner" organization or foundation that has done significantly impactful work over the past year within the Texas museum community
The Texas Association of Museums Media Innovation & Excellence Awards or TAMMIES for short, are designed to showcase museums that are doing innovative things with media and technology. We want to see how your museums are incorporating technology into exhibits and programs; how you are using technology to reach virtual audiences outside of the traditional museum space; and how you are using social media to engage with audiences in innovative ways.
TAM promotes the highest standards of graphic design and media production through the annual Mitchell A.Wilder Publication Design Award Competition. The award is named in honor of one of the early advocates of excellence in museum publications, Mitchell A. Wilder (1913-1979), founding director of the Amon Carter Museum in Fort Worth. Beginning with primarily late-nineteenth-century Western art, he helped build the collection of paintings and sculptures to include a wide cross-section of American masterpieces.
Awards Presentation designed by Laurel Westphal